Scenic USA - Utah
Each day Scenic USA presents a new and exciting photo feature from somewhere in the United States. Chosen from a wide variety
of historic sites, city scenes, backcountry byways, points of interest and America's best parklands, this site offers the viewer hundreds
of unique travel destinations and vacation ideas. Each feature is coupled with a brief explanation. For further detailed information, links
to other related sites are provided, but are never to be considered an endorsement.
Willard Bay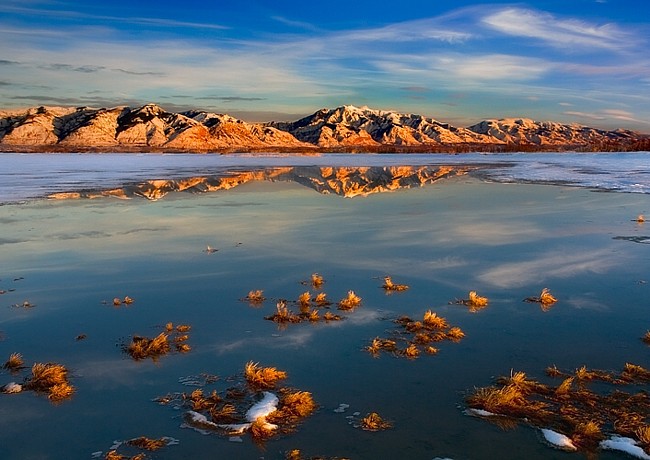 Land locked, with some regions seven times saltier than the oceans, the Great Salt Lake covers about 1700 square miles of Salt Lake City area. Lying at the bottom of a 35,000 square mile drainage basin, the lake is just a small remnant of a Pleistocene Epoch Lake Bonneville. Covering 20,000 square miles, Lake Bonneville's shoreline waves once lapped against the majestic Wasatch Mountains to the east.
Bear River Refuge and Willard Bay are tucked neatly in a mid-eastern pocket of the Great Salt Lake. Formed by an extension of the Promontory Mountains, Willard Bay Wildlife Management Area is not as salty as the northern end, as it's diluted by the inflow of fresh water from the Bear River. Still in all, brine shrimp are these most abundant wildlife species in the bay, attracting millions of shorebirds and waterfowl.
Although the lake water is highly corrosive for motor boat engines, sailboats take advantage of the wide open bay and steady winds. It's easy to guess that bird watching is big along the wetlands region of the eastern shore. And from this striking view of Willard Bay, you can imagine the photographic opportunities along the bayside.
Copyright © 2011 Benjamin Prepelka
All Rights Reserved