Scenic USA - Tennessee
Scenic USA offers a collection of select photographs from a wide variety of attractions, points of interest, historic sites, state parks and
national parks found throughout the United States. Each photo feature is coupled with a brief explanation.
For further detailed information, links to other related sites are provided.
Lookout Mountain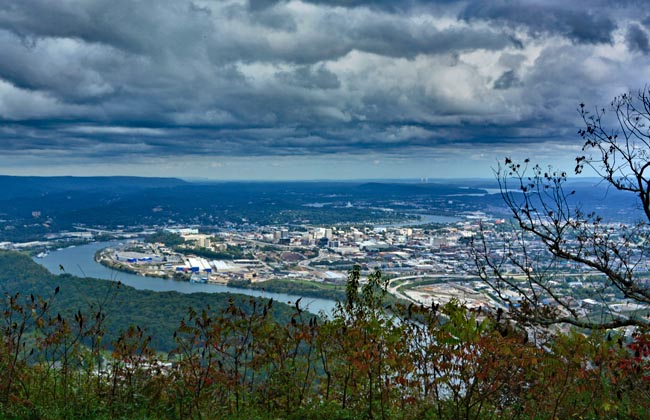 Lookout Mountain presents quite a spectacular view of Chattanooga and the Tennessee River.
During the Civil War Period, Lookout Mountain also offered a military viewpoint of Chattanooga, considered the gateway to the south. On November 24, 1863, General Joseph Hooker led an attack that became known as the Battle Above the Clouds.
Twenty-five years later veterans of this battlefield, Ferdinand Van Derveer and Henry Van Ness, stirred interest in preserving the area as a memorial site. A few years later, President Benjamin Harrison signed a bill establishing the first military park. In 1895 a dedication took place on Snodgrass Hill. It was a moving ceremony as a great crowd veterans arrived for the celebration. Today, Chickamauga-Chattanooga National Park includes Point Park at Lookout Mountain. 1930s Civilian Conservation Corps camps built a network of trails through the park. Some of the park's most interesting highlights are reached over these footpaths.
Copyright ©2006 Benjamin Prepelka
All Rights Reserved