Scenic USA - Nevada
Scenic USA offers a collection of select photographs from a wide variety of historic sites, points of interest, and a large
sampling of America's parklands. Each photo feature is coupled with a brief explanation.
For further detailed information, links to other related sites are provided, but in no means should they be considered an endorsement.
Lamoille Canyon Road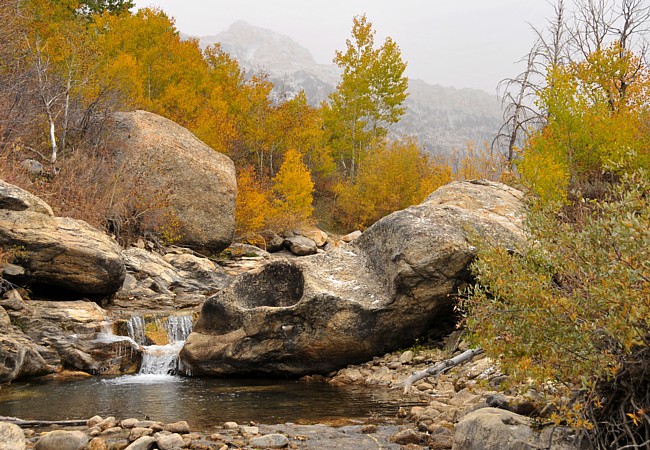 Lying in the rain-shadow of a mammoth Sierra-Nevada Mountain Range, Nevada is the driest state in America. With wet weather patterns blocked from the west, Nevada must rely on hundreds of underground aquifers which are scattered over the Great Basin.
One of the state's exceptions is found about 20 minutes from the town of Elko. Here, among a desert ecosystem, Lamoille Canyon is one of Nevada's wettest scenic wonders. Now recognized with a scenic byway designation, the 13 mile Lamoille Canyon Road climbs through a glacial carved gorge and ends in the shadows of Ruby Dome and Road's End Picnic Area.
The Humboldt-Toiyabe National Forest surrounds this state byway, creating one of the state's most spectacular autumn drives. As the byway climbs into the Ruby Mountains, sightseers may witness fall color from mid-September into October. Lit up with golden hues of aspen, poplar and cottonwoods along the way, byway stops include plenty of Lamoille Creek cascades, mountain views and interpretive story-boards.
In a state that's more famous for gold mines, cattle drives and gambling, mainstays of the economy, word is quickly spreading of Nevada's scenic parks, spooky ghost towns and spectacular mountain ranges. From those that know best, you must add Lamoille Canyon Road to your must see byways list.
Copyright ©2011 Benjamin Prepelka
All Rights Reserved