Scenic USA - Florida
Scenic USA offers a collection of select photographs from a wide variety of historic sites, points of interest, and a large
sampling of America's parklands. Each photo feature is coupled with a brief explanation.
For further detailed information, links to other related sites are provided, but in no means should they be considered an endorsement.
Rheinauer House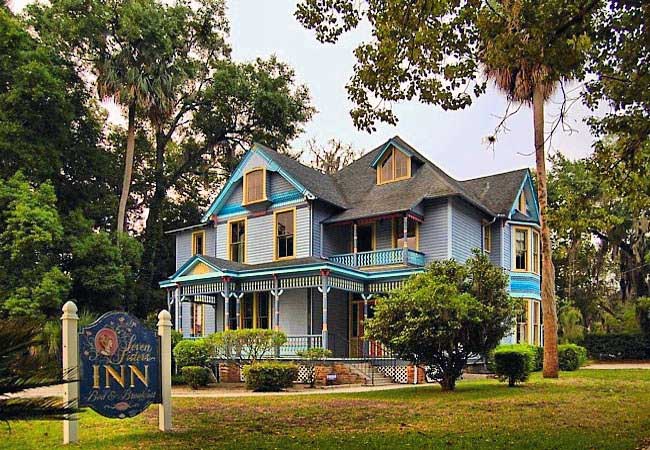 Colored in a painted-lady style in various shades of blues and bright trim, the two and a half story Rheinauer House is one of the stand-out Victorian homes in Ocala's historic district. Built in 1890, the Victorian frame, highlighted with gothic features, was home to Charles Rheinauer. Moving from Thomasville, Georgia, Charles and his brother Maurice set up a dry goods store and later produced cigars. Seen here as the Seven Sisters Inn Bed and Breakfast, the prosperity of the inn suffered greatly in this poor economic climate and was recently rescued at auction by area businessmen.
During the mid 19th century, the town of Ocala grew around Fort King, which played a strategic role in the Seminole Indian Wars. By 1846, Ocala became the county seat for Florida's newly formed Marion County.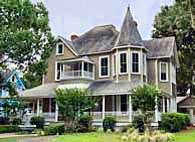 The town was devastated during the Civil War, reducing its population to a few hundred people. After its rebound from the war years, the town's center was destroyed by fire on Thanksgiving Day, 1883. The town was rebuilt with fire resistant material; and following reconstruction, Ocala acquired the nickname of the brick city. Here on Fort King Street, the Rheinauer House occupied a half acre lot. Because of its wood frame construction and the fear of fire, the kitchen and carriage house were built in the rear of the lot. The adjacent Scott house, also built in the same period, followed a Queen Anne style of architecture. The 1888 Scott House, the other half of the Seven Sisters Inn, was judged best restoration project by the Florida Trust Historic Preservation Society. By the time that the Rheinauer and Scott houses were complete in 1890, Ocala had expanded to cover four square miles and was the fifth largest town in the state.
Copyright ©2011 Benjamin Prepelka
All Rights Reserved