Scenic USA - New Mexico

Tucumcari
---
---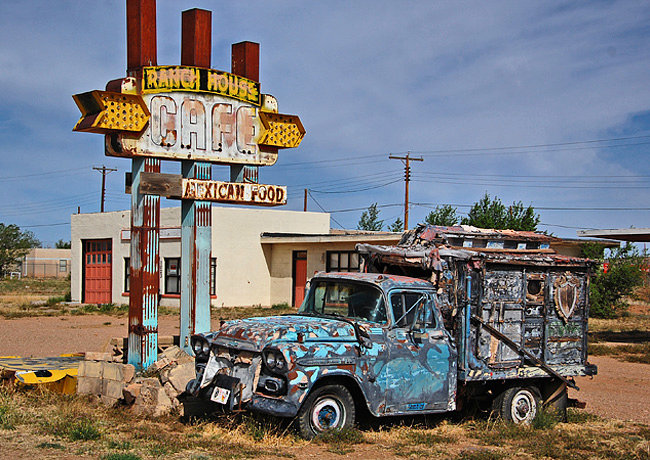 As Interstate 40 cuts a direct line across a drab central Mexico, Exits 329 and 335 offer a colorful side trip to Old Route 66 and Tucumcari.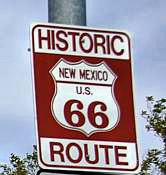 The County Seat of Quay, Tucumcari found its prominence as a railroad camp in the late 1800s. Located near Tucumcari Mountain, the lively construction camp earned the nickname Six Shooter Siding. After the town was officially established in 1901, a much needed name change eventually followed. The unusual Indian name, Tucumcari, is believed to be part of an old Romeo and Juliet style myth.
   One of the largest towns between Amarillo, Texas, and Albuquerque, Tucumcari attracted cross-country travelers with scores of restaurants and motels during the 30s, 40s, and 50s. Motorists found Tucumcari Tonight billboards all across New Mexico and the Texas Panhandle.
   Despite competition from I-40 restaurants and modern hotels today, vintage motor inns and 50s diners still enjoy visits from nostalgic travelers. The Blue Swallow Inn, built in 1939, still sets the night aglow with its distinctive neon marquee.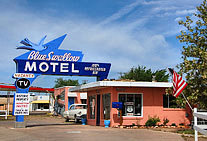 Its vintage rooms, beautifully restored, are complete right down to a old rotary dial telephone. Still welcoming weary travelers, this overnight stay will bring back old memories for those advanced baby boomers.
   Aside from its place on Historic Route 66, Tucumcari boasts filming various scenes of television shows and motion pictures. Many episodes for Rawhide, starring a young Clint Eastwood, were shot in the Tucumcari area. More than 15 songs hit the record charts, either mentioning Tucumcari or entitled Tucumcari. Tucumcari, a name that people just love saying, is an excellent Route 66 stop, offering a sense of what mid 19th century American travel was all about.

     Area Map
---
| | |
| --- | --- |
| Additional Area Attractions | |
---
Copyright © 2012-16 Benjamin Prepelka
All Rights Reserved