Scenic USA - Alabama

Old Cahawba
---
---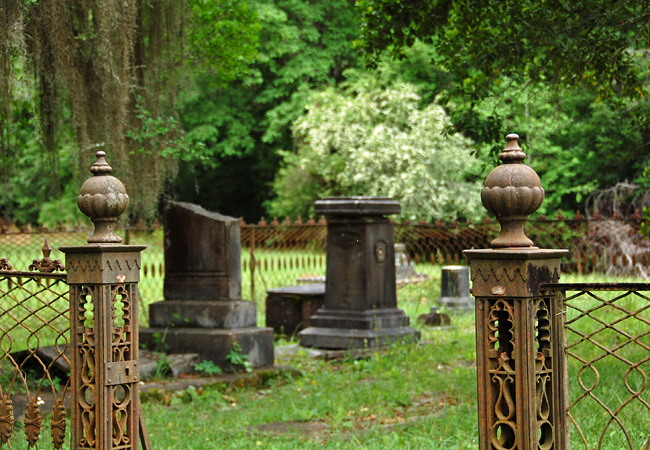 Fire, floods, decay and brick scavengers have all taken their toll on Alabama's first state capital. Here at one of the South's most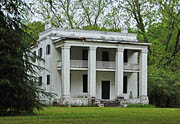 famous ghost towns, a handful of ruins, several buildings, a grid of overgrown streets and three cemeteries make up the Old Cahawba Archeological Park site.
   Utilized for its accessibility from the Alabama and Cahaba rivers, flooding and incessant mosquitoes quickly earned the capital city an unhealthy reputation. Carved from the Alabama wilderness in 1919, by the following year the new Alabama capital was up and running. And just as quickly as it was set-up, it was whisked away to Tuscaloosa.
   Old Cahawba hung on for years after the state's legislators departed, suffering numerous setbacks, especially during the Civil War when railway track were moved and a cotton warehouse was converted into a Confederate prison. By 1989 the town was officially unincorporated, but by then it was already a deserted ghost town.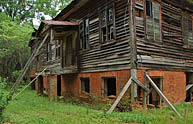 The few structures that remain standing in today's Old Cahawba Archeological Park include the Kirkpatrick House (inset), originally built as a slave quarters. The main Kirkpatrick home burned in 1935 and the family utilized the slaves quarters, adding a portico and back wing. Another Old Cahawba structure, the William Fambro House (inset) was built around 1841. Supported by external bracing and looking very fragile, this survivor is located on the corner of Oak and 1st North streets.
   Considered a remarkable undertaking, St. Luke's Episcopal Church was dismantled and moved up from the Cahaba River to the village of Martin's Station eleven miles away.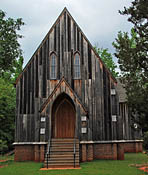 There, the Carpenter Gothic church was used for another 60 years by a Baptist congregation. During 2007-2009, Auburn University students dismantled the 150 year old church and returned it to Old Cahawba for re-assembly. The church now greets visitors as they enter the park to the visitor center.
   Cahawba's New Cemetery, created in 1851, is one of three burial grounds in the park (main photo). A tour guide and map of the cemetery gives a strong hint at the diversity of people in this antebellum town.
   Not the easiest place to find, the beauty, Old Cahawba's solitude and mystique would be lost in a crowd. Visiting this archeological park is a remarkable experience of a town that can be seen returning to its natural state.

Area Map
---
Additional Area Attractions

Scenic USA Prints from Fine Art America
---
Copyright © 2012-16 Benjamin Prepelka
All Rights Reserved