Scenic USA - Pennsylvania

George Spangler Farm
---
---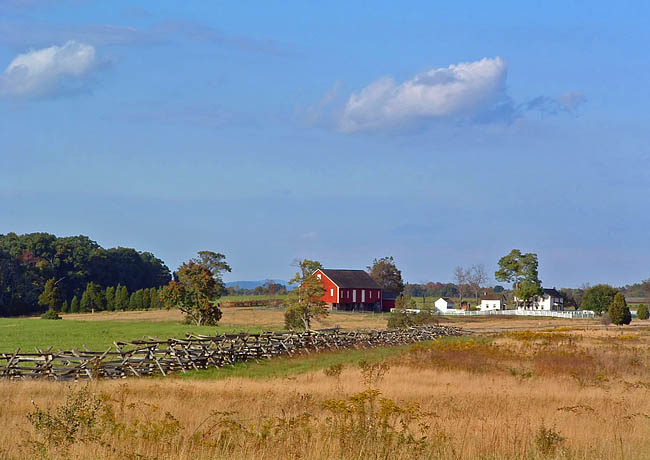 Like most Civil War battles, fighting cascaded over the hills and mountains, and through open valleys, often ravaging the property of local farmers and citizens. While some buildings were destroyed during the battle, others were hastily converted into field hospitals.
   Here at Gettysburg, artillery units fought side-by-side with the infantry.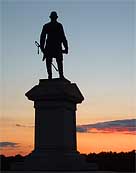 Union batteries brutally held off Confederate charges and knocked out opposing batteries. Their favorite artillery piece was a 1200 pound light gun, the bronze Napoleon. The two armies pounded one another for three days, from Seminary Ridge to valley positions called the Peach Orchard, the Wheatfield and Little Round Top. The fierce fighting claimed the largest number of battle site casualties of the entire Civil War, and is often cited as the war's turning point.
   This peaceful Gettysburg farm scene was viewed from up on Seminary Ridge were Poague's howitzers, belonging to the Army of North Virginia, were placed in lunettes. Their mission was to repel any Union attack from the valley below. These guns were silent at Gettysburg, but the bloody battle raged all around.
   Nearby Emmitsburg Road, George Spanglerís farm was just beyond the fighting on Culpís Hill.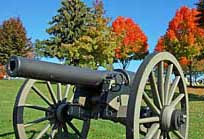 With well over 25,000 wounded in the fields, some of the intact homes and barns were quickly utilized as hospitals. Spangler's barn and farmhouse provided the 11th Army Corps shelter, a water source and space for surgeries. From the barn, the wounded watch shells explode all around during Pickettís Charge, some landing within 20 feet. After the chaos ended, more than 70 soldiers were buried on the farm and the wounded were eventually shipped out by train.
   The George Spangler Farm, one of a number of farms at the Gettysburg National Military Park, was added to the National Register in 1975 and updated in 2004.

    Area Map
    Gettysburg National Military Park Guide and Map
---
| | |
| --- | --- |
| Byway Points of Interest | Scenic USA Prints from Fine Art America |
---
Copyright © 2006-16 Benjamin Prepelka
All Rights Reserved