Scenic USA - Pennsylvania

Gettysburg National Military Park
---
---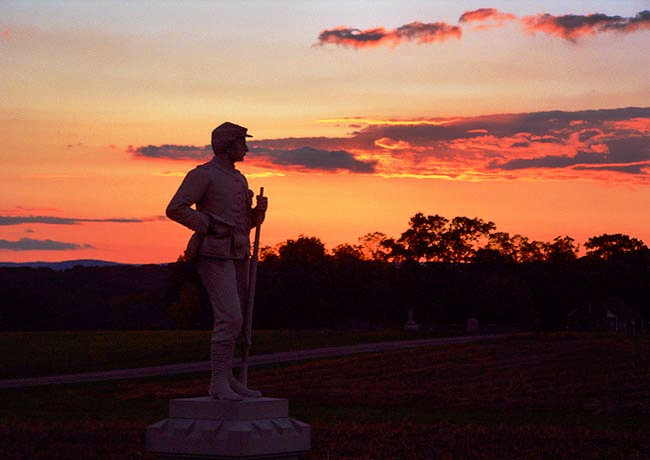 Often considered the turning point of the Civil War and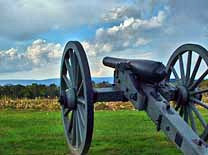 the greatest battle ever fought on American soil, Gettysburg Military Park preserves one of the most historic battlefields in the United States. Many of the homes, barns, rocks, fencelines and cannons appear just as they had on that momentous day in 1863.
   Confident after a victory at Battle of Chancellorsville, Confederate General Robert E. Lee moved his army northward, taking the offensive into Maryland and Pennsylvania. Lee's plan was to advance toward Philadelphia, hoping to create panic in the North. His ultimate goal was to pressure Union President Lincoln for a peace deal.
   When General Robert E. Lee moved the Army of Northern Virginia across Maryland's border into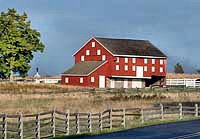 Pennsylvania in the summer of 1863, it was simply chance that the ultimate battle would take place in Gettysburg. Here Federal troops, led by General George G. Meade, caught up with Lee's army. On July 1st Confederate soldiers attacked the Union troops on McPherson Ridge. Only a mile apart, the two great armies collided the following day in one of America's most devastating battles. During the first two days Lee attacked the Union's flanks. The third and final day, Lee's forces attacked the center of the Union line. Known as Pickett's Charge, more than 5000 soldiers became casualties in a single hour. Turning a deaf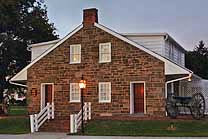 ear to the advice of Lt. Gen James Longstreet, Lee allowed the Southern unit to advance into a slaughter, just as Longstreet predicted.
   After three long and bloody days of fighting the battle ceased. The town of Gettysburg lay in ruin and more than 51,000 troops were killed, wounded, captured or were missing. As Lee prepared his decimated army for a solemn retreat, he remorsefully uttered, "All this has been my fault ... it is I that have lost this fight." Throughout the remainder of the war, General Lee was never able to take the offensive again.

    Area Map
    Interesting Aside: First Lt. Alonzo Cushing was awarded nation's highest military decoration, the Medal of Honor, nearly 150 years after he died at the Battle of Gettysburg.
---
| | |
| --- | --- |
| Additional Points of Interest | |
---
Copyright © 2006-15 Benjamin Prepelka
All Rights Reserved