Scenic USA - Pennsylvania

McPherson Farm
---
---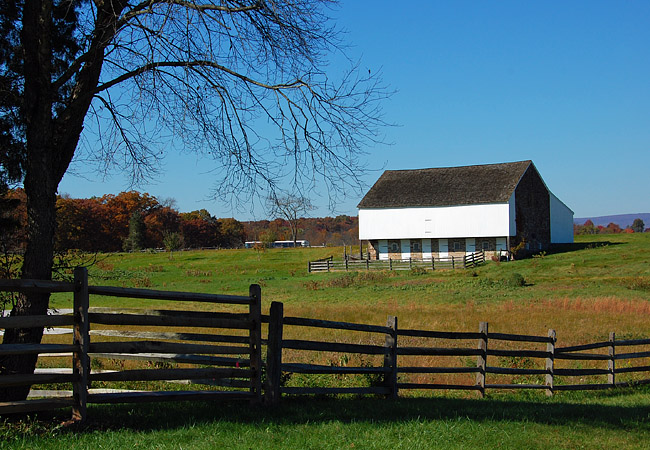 A major stagecoach stop on the way west from Philadelphia, the crossroads at Gettysburg was also the scene of the most crucial battle of the Civil War. During the last days of June and the first few days of July (1863), 165,000 soldiers poured into the Gettysburg area.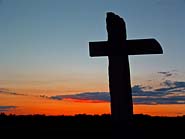 And beginning on the morning of July 1st a desperate struggle ensued, covering the surrounding fields and orchards of Gettysburg, throughout the city streets and across Chambersburg Pike. The Union's Iron Brigade fought bravely until the last of their cartridges were gone. At first day's end, fresh Confederate forces pushed Union regiments from the McPherson farm, and across the valley to Seminary Ridge. When the sun set on Gettysburg after the first day of fighting, Confederate troops had finally occupied the area around the McPherson Farm and Union General John F. Reynolds lay dead.
Witnessing one of the most deadly battles ever seen in the Civil War, the second day's fighting involved at least 100,000 soldiers. Battle lines shifted throughout the three day showdown, with Union forces desperately protecting Culp's Hill and Cemetery Hill, the northern army's only real lifeline.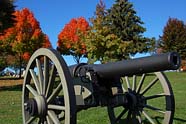 Despite initial Confederate success, the battle turned against them on the 3rd day, and Lee ordered his army back to Virginia.
Needless to say, the town of Gettysburg lie in ruin. Nearly a third of all the forces were dead, wounded or missing. Among the casualties, nine commanding generals were killed, where no other battle claimed as many officers.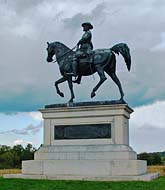 Fields turned into mass graveyards. Public buildings and homes were turned into hospitals. Even the McPherson barn was used as a hospital, and surgeons struggled to treat so many wounded.
One of the most popular of all the Civil War battlefield sites, Gettysburg is toured by over three million visitors every year. The military park includes the town, 26 miles of paved roads and a surrounding 6000 acres. Tour buses, licensed tour guides, Segway tours and self-guided tours are the most common ways to see the battlegrounds. Today at Gettysburg, the McPherson Barn is all that remains of the McPherson farm buildings. The National Park Service completed its restoration in 1978. The Reynolds statue (inset) stands across the road from the McPherson Barn on Reynolds Avenue and marks the area where he was killed.

Area Map
Park Map and Guide
---
| | |
| --- | --- |
| Additional Points of Interest | |
---
Copyright © 2006-16 Benjamin Prepelka
All Rights Reserved