Scenic USA - Arizona

Tucson Skyline
---
---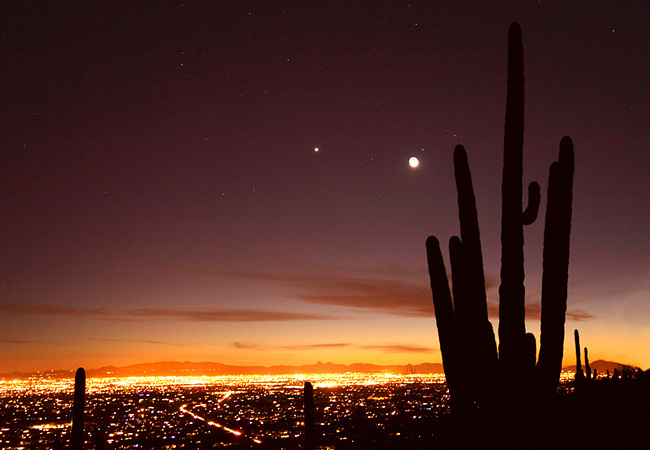 Flavored with Pima and Tohono O'odham Indian cultures and a molded with a Spanish presence since the early 1700s, Tucson celebrates its past and offers its visitors a unique look at its cultural heritage. Claiming to be the oldest inhabited city in the United States, recent excavations date a Santa Cruz River village back to about 4000 years. Later periods saw the expansion of farming, able to continue during dry periods with a network of irrigation canals.
The city of Tucson was first placed on the map when the Spanish established the Presidio San Agustin de Tucson in 1775. A series of battles and struggles for area control filled the next century, with Tucson having flown five different flags by the time the Southern Pacific Railroad arrived in 1880.
Located in south-central Arizona along the I-10 corridor, Tucson is surrounded by the Rincon and Santa Catalina mountains. It's also desert country, where the Sonoran and Chihuahuan deserts converge.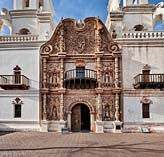 This skyline view of Tucson captures the twinkling lights of the city with an iconic saguaro catus announcing this is southern Arizona. Now one of the largest cities in Arizona, Tucson's mild sunny climate entices outdoor lovers, cyclists, rock climbers and hikers. Anchored by the East and West Saguaro National Parks, the area's Sabino Canyon, area botanical gardens, Mount Lemmon and Sonoran Desert landscapes continue to impress Tucson visitors. One of a line of southwestern Spanish missions, the San Xavier del Bac Church welcomes modern day visitors and parishioners. Completed in the late 1700s the White Dove of the Desert is truly a remarkable representation of Spanish mission-style architecture.

Area Map
---
| | |
| --- | --- |
| Additional Points of Interest | |
---
Copyright © 2013-16 Benjamin Prepelka
All Rights Reserved