Scenic USA - Arizona

Sabino Canyon
---
---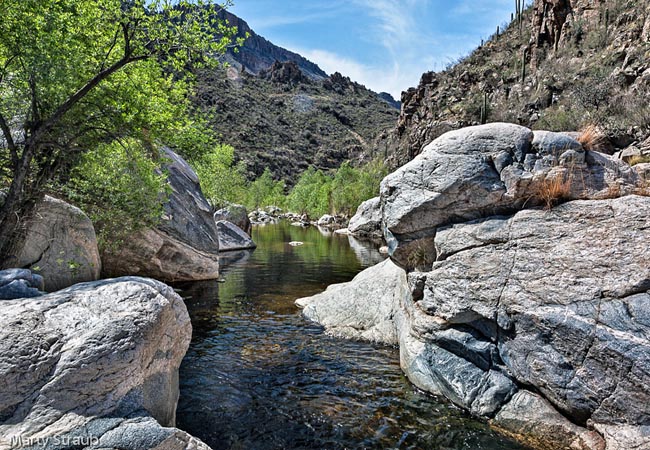 Sabino Canyon snakes its way up into the Santa Catalina Mountains creating one of the most popular natural parks in the Tucson area.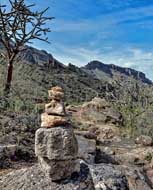 Found on the outskirts of the city, Sabino Creek provides a rare water feature for the majority of the year. Two rainy seasons provide more moisture than any typical Sonoran Desert region, attracting plenty of thirsty desert critters. Canyon visitors are warned about flash floods during the rainy seasons when Sabino Creek is known to inundate its riverbanks. An important part of canyon health, floodwaters bring important nutrients to new plant growth, and help remove old vegetation and salt built-up in the canyon soil.
Archeological evidence places the Hohokam Culture in the canyon more than 1500 years ago. Today's shrinking Native population of Pima Indians and Tohono O'Odham now reside in the area.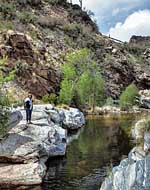 In 1908 the Catalina Forest Preserve was established, adding Sabino Canyon to the preserve. Sabino Creek begins in this thick pine forest on the slopes of Mt. Lemmon, and cuts a 10 mile path to the desert below. The Sabino Canyon CCC set up the park's first infrastructure, building bridges and trails. Today's canyon access is by foot, bike or Sabino Canyon Tram. Bicyclists are restricted to off peak hours and certain days of the week.
An open air shuttle bus provides the easiest way to take in this rich desert oasis. The hillsides are dressed in Palo Verde trees (state tree), jumping cholla, ocotillo (coachwhip) and the bearer of Arizona's state blossoms, the saguaro cactus. Open as a day use park, the wildlife (mainly nocturnal) remains tucked away in cozy burrows, safe from the million plus yearly visitors. Considering this fragile environment, imagine what the shuttle bus has saved over the last 30 years.

Area Map
---
| | |
| --- | --- |
| Nearby Points of Interest | |
---
Copyright © 2010-16 Benjamin Prepelka
All Rights Reserved