Scenic USA - Arizona

Mission in the Sun
---
---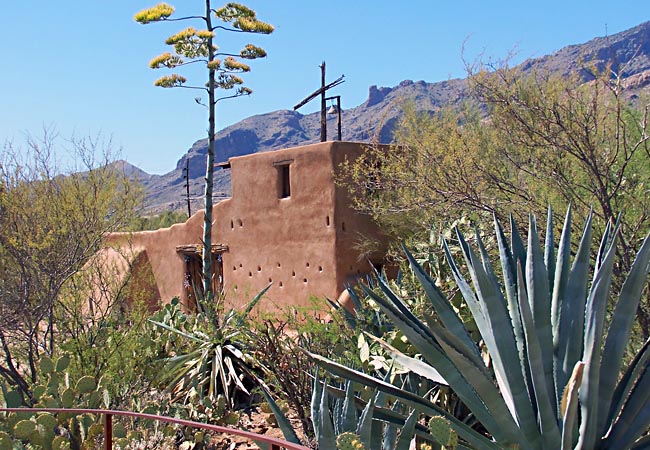 Ettore "Ted" DeGrazia was born in Morenci, in 1909, son of Italian immigrants. DeGrazia,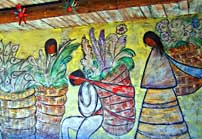 growing up in an eastern Arizona mining camp, was fortunate to earn two degrees in art and education from the University of Tucson. His first piece of artwork was published in the Arizona Highways magazine in 1948. He achieved global fame when his work was used in a UNICEF card collection in the 60s. DeGrazia died in 1982 and was laid to rest beside his adobe chapel, the Mission in the Sun.
The chapel is part of a ten acre retreat, which also includes a gift shop, DeGrazia's home and the Gallery in the Sun. An interesting side note describes how DeGrazia brought all the building material, including water, for the first structure (the chapel) by car. Following his own design, DeGrazia and his friends raised the adobe church building in 1952. DeGrazia further explained, "I built the mission for myself. Iím not a churchgoing man but I am a religious man and perhaps religious only within me.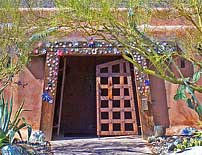 Religion to me is right or wrong. You do right and youíre a religious man. Itís not Catholic, itís just an old chapel for anybody who wants to go in there whether Christian or non-Christian."
The gallery, listed in the National Register of Historic Places, houses over 15,000 DeGrazia originals. His artwork includes oils, watercolors, serigraphs, sculptures and ceramics. The Mission in the Sun, pictured here, is decorated with his murals. The Swan Road complex is free to the public and is funded by the DeGrazia Foundation.

Area Map
---
| | |
| --- | --- |
| Additional Points of Interest | |
---
Copyright © 2008-15 Benjamin Prepelka
All Rights Reserved