Scenic USA - Idaho
Scenic USA offers a collection of select photographs from a wide variety of attractions, points of interest, historic sites, state parks and
national parks found throughout the United States. Each photo feature is coupled with a brief explanation.
For further detailed information, links to other related sites are provided.
Shoshone Falls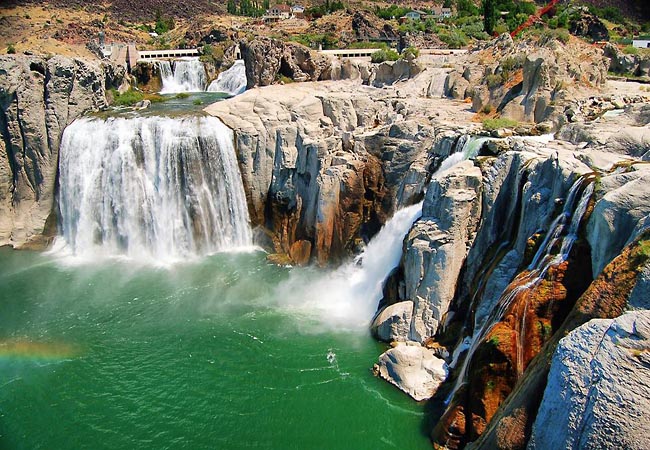 At one time Shoshone Falls was one of the most spectacular waterfalls in the West. Here at Twin Falls, in southern Idaho, the Snake River turns northward, making its way toward a rendezvous with the Columbia in northeast Washington. Reduced to a trickle with years of drought and irrigation diversions, the falls are seen here at a tenfold reduction. Occasionally, plentiful snow and spring rainfall turn this 212 foot marvel into a 1000 foot wide torrent.
A steep access road leads down to Shoshone Falls Park, providing several falls viewpoints and overlooks. Picnic tables and playground at Dierkes Lake make for an inviting family respite above the falls area. Its small entrance fee is just enough to keep the park from being overrun.
Named after Shoshone Indians of the area, 19th Century pioneers went out of their way to see this great natural wonder. A group of business men bought the property in 1883, adding roads, a river ferry and a two story hotel. The resort property was later acquired by Frederick J. Adams and finally donated to the city of Twin Falls. The State of Idaho further increased the size of Falls Park with additional land to the west of the park. Now, the biggest news here is a wet Idaho winter.
Copyright ©2010 Benjamin Prepelka
All Rights Reserved