Scenic USA - Illinois
Scenic USA offers a collection of select photographs from a wide variety of attractions, points of interest, historic sites, state parks and
national parks found throughout the United States. Each photo feature is coupled with a brief explanation.
For further detailed information, links to other related sites are provided.
Chicago Harbor Lighthouse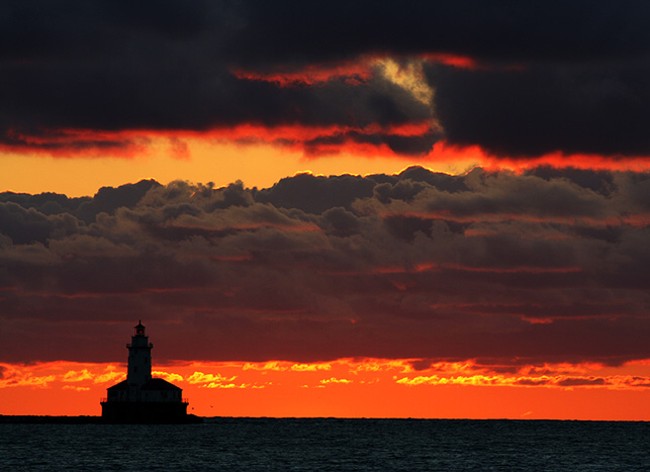 In the 1890s, thousands of Chicagoans prepared for the World's Fair. Anxious to show the world its latest engineering marvels and harbor improvements, a 48 foot lighthouse was built at the mouth of the Chicago River. Another award winning display presented a marvelous beehive Fresnel lens, fitted with alternating red and white panels. The new lens, on loan, was destined for California to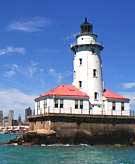 complete the lighthouse at Point Loma. At the close of the World's Fair Columbian Exposition, the lighthouse board decided to install the new lens in the Chicago Harbor Lighthouse.
Completing lighthouse history, the Chicago Light was moved to mark a new harbor breakwater. The light-station was completed with an attached fog signal building and boathouse. The Shanghaied lens was finally shipped to California (nearly a century later) and is now on display at the Cabrillo National Monument. And the lighthouse was transferred to the City of Chicago in 2009.
This striking sunrise view was taken from the shoreline, but for close-up views (inset) it is better seen from a tour boat.
Copyright ©2010 Benjamin Prepelka
All Rights Reserved