Scenic USA - California
Scenic USA offers a collection of select photographs from a wide variety of attractions, points of interest, historic sites, state and
national parks found throughout the United States. Each photo feature is coupled with a brief explanation.
For further detailed information, links to other related sites are provided.
Old Point Loma Lighthouse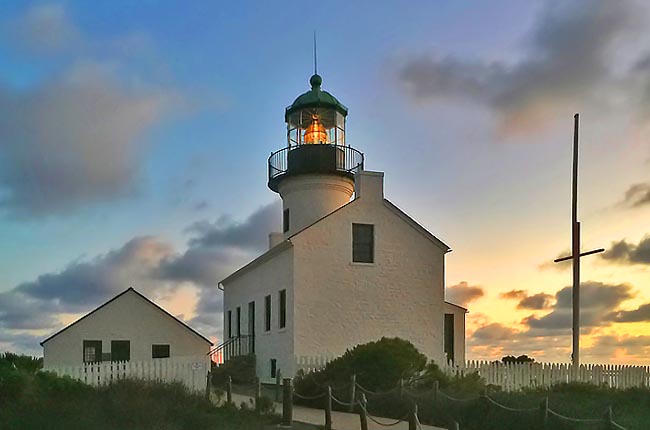 The Old Point Loma Lighthouse was the first beacon to mark the entrance to San Diego Bay. Perched 422 feet above the Pacific, lighthouse designers failed to realized low hanging clouds and dense fog would render the nav-aid useless. It wasn't long before construction began on another lighthouse. The old lighthouse operated for only 36 years, but lives on as a national park attraction. President Wilson ensured the old lighthouse was properly preserved, creating the Cabrillo National Monument in 1913. At the park, rangers and exhibits present explanation of the lighthouse's interesting past. Point Loma Light-station celebrated its 130th birthday in 1984. One massive candle, the beacon was re-lit by the National Park Service for the first time in 93 years.
The modern Point Loma Light, an open tower design, was built on the tip of Point Loma. Its beacon, a 600,000 candlepower light, can be seen in the Pacific Ocean up to 15 miles. The light-station is also fitted with a diaphone fog signal, a necessity on this foggy coastline.
Copyright ©2008 Benjamin Prepelka
All Rights Reserved