Scenic USA - Washington
Scenic USA offers a collection of select photographs from a wide variety of attractions, points of interest, historic sites, state parks and
national parks found throughout the United States. Each photo feature is coupled with a brief explanation.
For further detailed information, links to other related sites are provided.
Bridal Veil Falls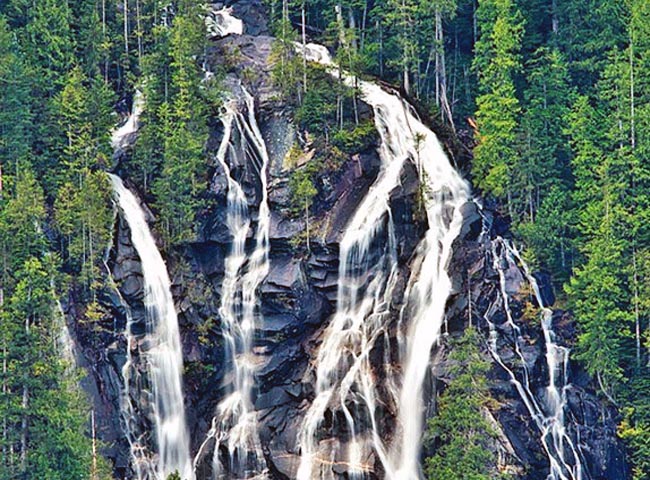 Imagine a four-tiered waterfall dropping more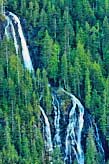 than 1300 feet. Well, itís no problem at all as Mount Index rises to an altitude of almost 6000 feet. Even if you donít have aspirations of climbing Mount Index, taking the Lake Serene Trail is one little trek you shouldnít miss.
North of I-90, Washington Stateís major east-west route, only two highways cross the northern Cascade Range. One of those scenic highways, cutting across Snohomish County, is U.S. Route 2. Here, just south of the town of Index, the towering Bridal Veil Falls thunders down from Lake Serene.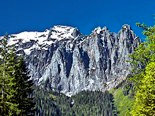 One of the countryís many Bridal Veils, this braided falls is quite impressive. In reaching the falls, the Lake Serene Trail starts off on an easy prelude to the climb. After leaving the old roadbed, the trail quickly gains elevation over a series of tight switchbacks and stairs. If you donít get your feet wet crossing a few of the side streams on the way, youíll definitely get soaked at the base of the falls. For those eager for more, the remaining waterfall tiers and Lake Serene are another 1300 feet up. At this point, the looming cliffs of Mount Index seem to rise straight up, and thankfully remind that mountain climbing is not on the agenda today.
Copyright ©2010 Benjamin Prepelka
All Rights Reserved