Scenic USA - Arizona
Scenic USA offers a collection of select photographs from a wide variety of attractions, points of interest, historic sites, state and
national parks found throughout the United States. Each photo feature is coupled with a brief explanation.
For further detailed information, links to other related sites are provided.
South Coyote Buttes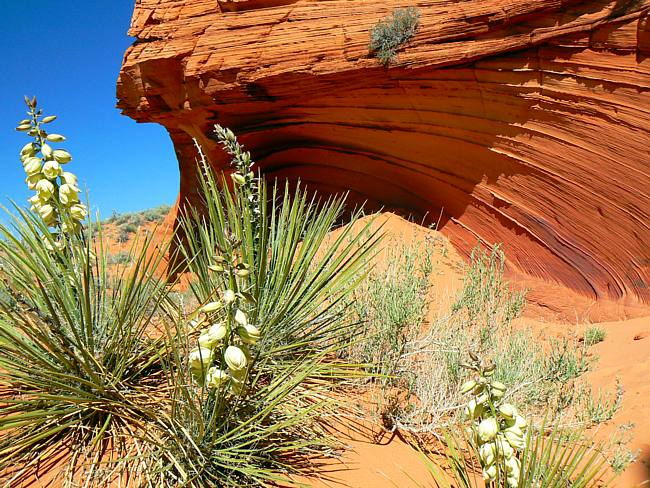 South Coyote Buttes is chocked full of enchanting sandstone shapes, including fragile fins, undulating terrain and colorful buttes. An arduous four wheel drive track to the trailheads, that's coated with a thick layer of sugar sand, and limited quantity of access permits help cut down on some of the sightseeing traffic, making the Buttes a more relaxed get-away.
Here in the Paria Canyon Wilderness, the harsh desert sun bakes everything. It takes a hardy native plant to survive in this climate. The wide varieties of desert plant-life are protected by law from theft, vandalism and unnecessary destruction. But in this seldom visited wilderness land, public awareness is truly the only key to their survival. Visitors are asked to stay on established trails, avoid the delicate sandstone fins and to be mindful of the fragile ecosystem. This striking photograph shows-off a familiar-looking yucca and it spikes of showy flowers. The contrasting, rich South Coyote Butte sandstone creates the perfect backdrop for this desert scene.
Copyright © 2007 Benjamin Prepelka
All Rights Reserved