Scenic USA - Ohio
Scenic USA offers a collection of select photographs from a wide variety of attractions, points of interest, historic sites, state parks and
national parks found throughout the United States. Each photo feature is coupled with a brief explanation.
For further detailed information, links to other related sites are provided.
Collector's Dream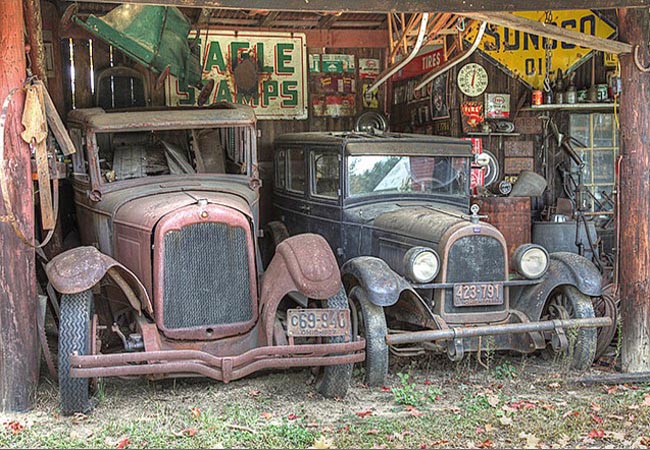 Could it be? Looking like a find of lifetime, or a collectorís dream, this antique filled barn in Richfield is part of the Western Reserve Farms and Equipment Museum. The display is just one of a number of historic buildings housed on a 48 acre plot.
Witnessing a quick disappearance of old farm buildings and equipment, Jim Fry began his collection of Ohioís rural past on his own farm. Able to add five buildings a year, the museum features plenty of new items, ranging from a cigar factory to a weaving mill.
The museum not only preserves buildings and equipment, but the know-how of long forgotten trades. Long after cities began benefiting from uses of electricity and telephones, rural Ohioans prospered well without. Farmers and craftsmen created much of their own equipment, refined their farming processes and produced what Jim likes to refer to as artful necessities.
Bypassing red tape and burdening bureaucracy, Jim Fry relies on a dedicated group thatís eager to come together and save history. Here at the Stone Garden Farm, just south of Richfield, Ohio, interested folks relearn 19th Century skills, have fun creating art, and showing off how it was done in the good old days.
Copyright ©2010 Benjamin Prepelka
All Rights Reserved