Scenic USA - Texas
Scenic USA offers a collection of select photographs from a wide variety of attractions, points of interest, historic sites, state parks and
national parks found throughout the United States. Each photo feature is coupled with a brief explanation.
For further detailed information, links to other related sites are provided.
Austin Skyline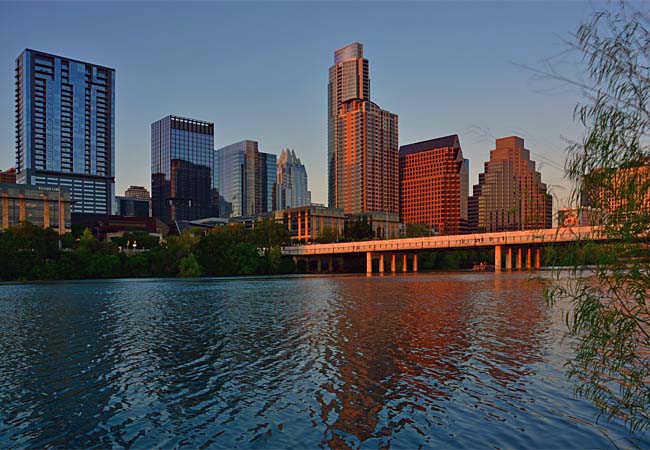 Initial plans for the capital city of the Lone Star State called for a grid of city streets alongside the Colorado River. Named after the father of Texas, Stephen F. Austin, city streets still resemble the first plan conceived by Judge Edwin Waller in 1839. This view across Lady Bird Lake, a reservoir on the Colorado, takes in the Austin skyline, topped with a notable line of peaks including the Frost Bank, One Congress Plaza and the San Jacinto Center.
Chosen to be the new capital city of the Republic of Texas in 1939, the city remained the state capital after annexation by the United States in 1845. A troublesome Colorado River was stabilized in 1839 with construction of the Great Granite Dam. By 1938, a public works project replaced the large dam with a series of dams and reservoirs.
The initiative was shaped by a young congressman, Lyndon B. Johnson. The chain of reservoirs, often referred to as the Texas Highland Lakes, provide power, water and a recreation area. Austinís Mayor Roy Butler, worked alongside Lady Bird Johnson to restore Town Lake in the mid 1970s. Named posthumously Lady Bird Lake, this peaceful setting supports a system of biking and walking trails, and an entertainment venue for The Live Music Capital of the World. More than 1900 bands and music artists live in and around Austin. It was more than 35 years ago when Willie Nelson brought his independent flair to the original pilot episode of Austin City Limits. The longest running music series in American history gave birth to the Austin City Limits Festival, continuing in a similar tradition along the shores of Lady Bird Lake under the Austin Skyline.
Copyright ©2010 Benjamin Prepelka
All Rights Reserved