Scenic USA - Utah

Angel Arch
---
---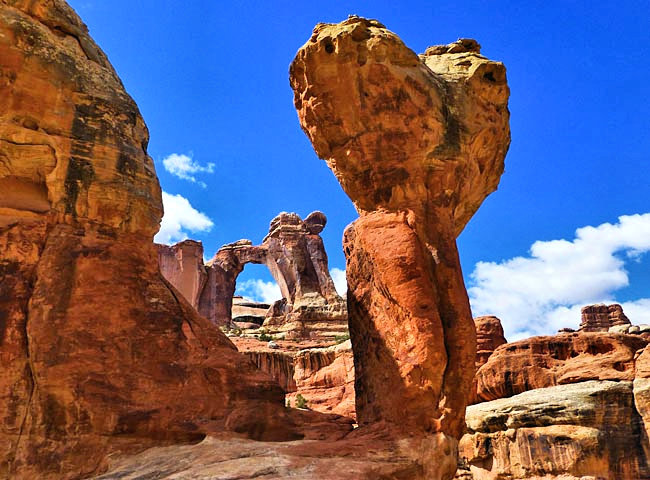 It's a long, winding trail to Angel Arch.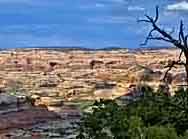 Four miles as the crow flies, but in this canyonland country there are no straight trails. The one way trip, south of Peek-a-Boo Springs in the Needles District, easily doubles the ten mile trek when you add more than one trip out to the arch and a tracking down a nearby, must see pictograph, the All American Man. In order to see the area's ancient wonders, an overnight backcountry hiking permit is required. At one time it was possible to drive all the way to Angel Arch, but too much of a good thing proved detrimental to the fragile riparian environment. Now only accessed on foot from the Peek-a-Boo Springs campground, vegetation has returned to the canyon floor, as well as area wildlife.
   Angel Arch, much larger than typical arches in the area, bridges an opening of 120 by 135 feet.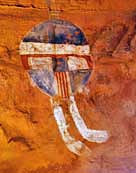 This sandstone arch is one at least four dozen natural arches in Canyonlands National Park. The Utah park also hosts a jumbled collection of other sandstone features, including rugged canyons, slickrock ridges, delicate spires, rocky grabens, potholes and of course, its signature needles. Looking somewhat like an extracted tooth, Molar Rock sprouts up in the foreground of this classic Angel Arch scene.
   Ancestral Puebloans have left traces of their culture throughout the park. Further exploration of the canyon's archeological sites will yield stone and mud dwellings, petroglyphs and grain storehouses. Although there's a slim possibility to make the roundtrip from the campground at Peek-a-Boo Springs in a day, there are too many treasures to explore in Salt Creek Canyon of the Needles District in Canyonlands National Park.

    Area Map
    NPS Map
---
| | |
| --- | --- |
| Nearby Points of Interest | |
---
Copyright © 2007-17 Benjamin Prepelka
All Rights Reserved