Scenic USA - Maryland
Scenic USA offers a collection of select photographs from a wide variety of historic sites, points of interest, and a large
sampling of America's parklands. Each photo feature is coupled with a brief explanation.
For further detailed information, links to other related sites are provided, but in no means should they be considered an endorsement.
Tilghman Island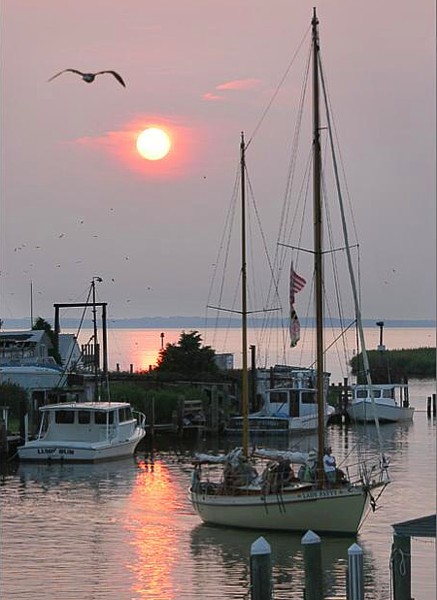 Watermen, lighthouses, skipjacks and seafood, words you'll find intertwined into Maryland's Eastern Shore and Chesapeake Bay vocabularies.
Here on Tilgham Island, visitors will find true working villages, and home to the last fleet of skipjack sailing vessels. Designed with a wide beam, low gunwales, easy to handle and able to take a strong wind, the skipjack was well suited for the bay area. During its heyday, a few thousand dotted the Chesapeake Bay. Declining seafood prices and dwindling harvest significantly trimmed the skipjack fleet. With today's climbing fuel rates, it's quite possible the skipjack will make a comeback.
Here at Dogwood Harbor, home to a few restored skipjacks, guests will find excellent seafood, fishing and sail charters, and some of the last watermen. Well-known for working the bay, watermen scoured the Chesapeake for crabs, oysters, eels and fin fish. Although oyster diving may have been around for centuries, today the practice is aided by scuba gear.
At one time, more than 75 separate lighthouses marked many of the bay points, harbors and side estuary entrances. Today, lighthouse fans are able to see more than two dozen lighthouses that still operate on Chesapeake. Here on Marylandís Eastern Shore, you'll find there's plenty to see and experience.
Copyright ©2011 Benjamin Prepelka
All Rights Reserved