Scenic USA - California
Scenic USA offers a collection of select photographs from a wide variety of historic sites, points of interest, and a large
sampling of America's parklands. Each photo feature is coupled with a brief explanation.
For further detailed information, links to other related sites are provided, but in no means should they be considered an endorsement.
Immaculate Conception Church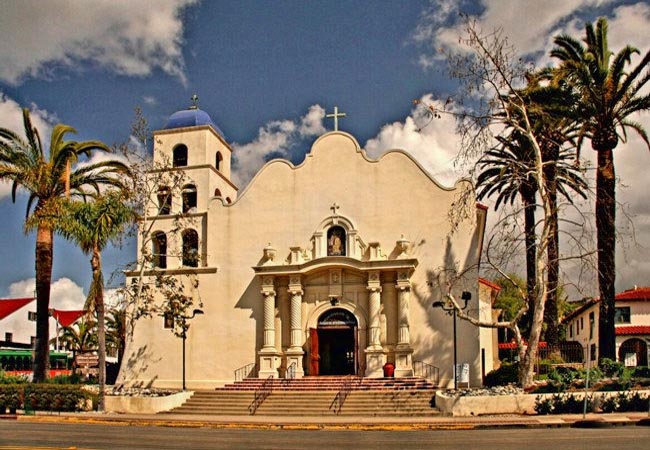 The first Europeans to set their eyes on the southern coast of California arrived at San Diego Bay in 1542 with Captain Juan Rodriguez Cabrillo. Sixty years later, Captain Sebastian Vizcaino landed at Old Town with his troops and three Carmelite Fathers. Here on the shores of southern California, Vizcaino and his men celebrated their arrival in the New World with holy mass.
Old Town San Diego is considered the birthplace of California, and the first permanent settlement in the state. Father Junípero Serra's mission and a Spanish presidio were established on a hillside by 1770. Today, the California Department of Parks and Recreation has preserved a large portion of the buildings in Old Town. Retaining its 1800s look, Old Town Historic Park captures San Diego's rich heritage, featuring the main plaza, the Mason Street School, and the Conde Street Little Adobe Chapel built in the 1850s.

Completed in 1858, the old adobe church was dedicated the Immaculate Conception of the Blessed Virgin Mary. When its adobe walls began to wear and weather away, Father Ubach's first projects was the construction of a brick church in 1868. Years of indecision and population shifts stalled church construction. Under the leadership of Father Mesny, the church walls were torn down, bricks cleaned, and finally the church was rebuilt. With the interior completed in 1917, the Immaculate Conception Church was opened for divine worship. Following a major restoration project in 1997, the old mission bells rang once again in Old Town.
Copyright ©2011 Benjamin Prepelka
All Rights Reserved