Scenic USA - South Dakota
Scenic USA offers a collection of select photographs from a wide variety of historic sites, points of interest, and a large
sampling of America's parklands. Each photo feature is coupled with a brief explanation.
For further detailed information, links to other related sites are provided, but in no means should they be considered an endorsement.
Custer State Park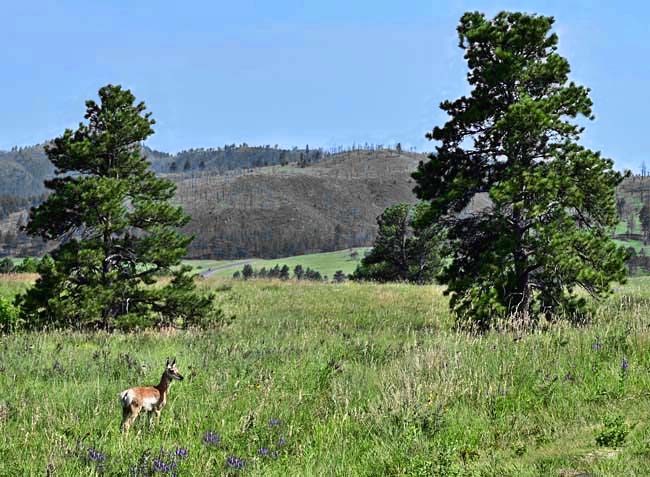 One of America's most famous memorials, Mount Rushmore in South Dakota, sees well over 2 million visitors a year. This intriguing area in the Black Hills offers plenty more reasons for visitors to lengthen their stay. One of the largest surprises may be the 73,000 acre Custer State Park. Featuring four unique dining and lodging resorts, the park is well equipped to handle Black Hills Visitors.
Known for its wildlife, one of the park's biggest draws is a large herd of North American Bison. During the spring, in April and May, calving season often adds as many as 500 new buffalo to the herd. After years of management, park officials realize that the prairie will support only 1000 head during the winter.
Custer State Park is unique in a way, supporting itself with user fees, yearly buffalo sales, and a buffalo hunt. Held twice a year, yearlings, 2 year old bulls, and cows are auctioned off to registered bidders from United States and Canada. Nearly 90 percent of today's buffalo are privately owned, and Custer State Park has been instrumental in the buffalo's recovery.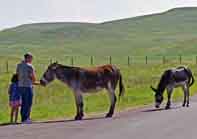 Almost 30 miles of trails in the park allow for hiking and horseback riding. Bighorn sheep, mountain goats, large herds of pronghorn, mule deer and whitetail deer also roam throughout the park. Back-country hikers may also be rewarded with sights of elk, red crossbill, mountain bluebird and the prairie falcon. Big cats are chiefly nocturnal and sightings are very rare. There's a good chance byway travelers will find some of the 30 wild burros that live in the park. A small group, usually found stalling road traffic, has found that begging usually pays off.
Copyright ©2011 Benjamin Prepelka
All Rights Reserved