Scenic USA - Florida

Florida Caverns
---
---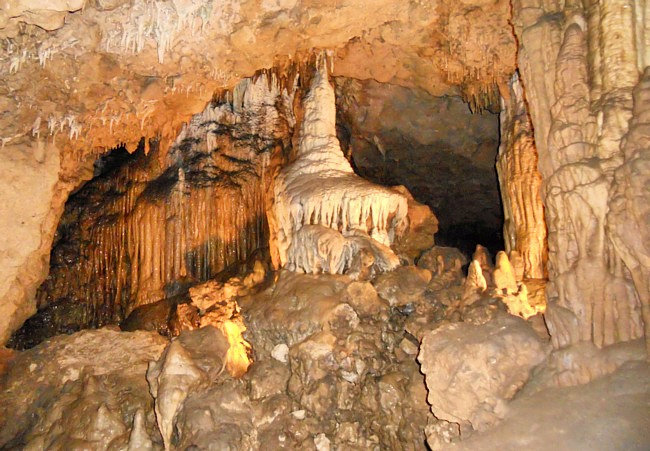 Filled with a huge array of unique limestone formations, Florida Caverns State Park may surprise Florida's first time visitors. Not visualizing Florida as a place for underground caves, this site is located in the Panhandle nearby Marianna and Interstate 10. This popular park incorporates the beautiful scenery around the Upper Chipola River Valley, a karst terrain and a ten acre underground wonderland.


Aside from the caverns, the 1300 acre park offers a marvelous variety of recreation opportunities. Built in the 1930s by the Civilian Conservation Corps (CCC), the 75 year old forest and river valley can be explored in a variety of ways. Six miles of trails are setup for biking, hiking and horseback riding. The Chipola River introduces guests to a few of Florida's popular attention-getters, the alligator, alligator snapping turtle, the barred owl and beaver. The Chipola River is also responsible for the creation of this cavern system. Here in the park, the river disappears into a sinkhole, and resurfaces a few hundred yards away. Because the composition of limestone is naturally porous, water works its way into the rocks, gradually creating passages and underground rivers. The park's Blue Hole, where the cold water will turn you blue, is a natural Florida spring that is forced up through the limestone bedrock.
As you may imagine, the highlight of the park is the cavern tour. Ranger lead tours are scheduled every day, except Tuesdays and Wednesdays.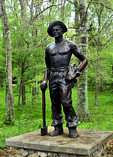 Dropping 60 feet down into the cave entrance, first time cavers are held in awe by the vast collection of stalactites, stalagmites, flowstone, soda straws, ribbons and draperies. All of these formations, including Bacon Rock, the Wedding Cake and South America Pool, were formed over a long period of time when surface water percolated through the limestone ceiling, depositing dissolved calcium ... a few particles at a time.
The CCC was instrumental in providing initial access into the cave. During the 1930s, workers removed mud, broadened passages, added headroom and installed lighting. Dinner bowls made perfect lighting reflectors, and today the cave's ceiling contains one of the largest collections of 1930s dishes. The 40 minute tour covers just a portion of the cave system and offers a cool respite from Florida's summer heat. Cave temperatures remain a constant 65 degrees all year long, nature's amazing air conditioner.

Area Map
---
| | |
| --- | --- |
| Nearby Points of Interest | |
---
Copyright © 2011-15 Benjamin Prepelka
All Rights Reserved