Scenic USA - Florida
Scenic USA offers a collection of select photographs from a wide variety of attractions, points of interest, historic sites, state and
national parks found throughout the United States. Each photo feature is coupled with a brief explanation.
For further detailed information, links to other related sites are provided.
St. Joseph Peninsula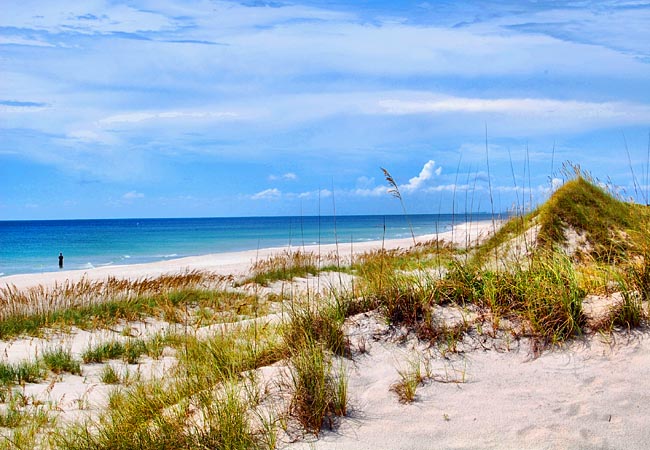 St. Joseph Peninsula, a long, thin strip of land that juts out into the Gulf of Mexico, is part of Florida's Forgotten Coast. Nestled in the crook of the Panhandle's Big Bend, the arm of land appears as a miniature Cape Cod. Found between the towns of Apalachicola and Port St. Joe, the peninsula and St. Joseph State Park is just far enough from the beaten path, some 75 miles from an Interstate.
Heading out on the peninsula, the first section is found covered in vacation homes and beachside cottages, some resting on piers and concrete pilings. Rounding the elbow at Cape San Blas, the highway continues northward to St. Joseph Peninsula State Park. Just beyond the park's beach access, campgrounds and cabins, the paved road ends, marking the beginning of a wilderness preserve. This seven mile stretch of bayshore and Gulf beaches can be explored either by hiking the beach or by boat (designated boat access points).
This Gulf-side view catches a lone angler enjoying the weekend, finding this section of beach deserted. The thin peninsula is covered in small dunes and a thick pine-scrub, and is home to deer, fox, bobcats and skunk. Peninsula bird watchers have identified over 200 species of birds. St. Joe Bay, created by the peninsula, is noted for its rich beds of oysters, scallops and fishing grounds.
Copyright ©2006-2009 Benjamin Prepelka
All Rights Reserved