Scenic USA - Idaho
Scenic USA offers a collection of select photographs from a wide variety of historic sites, points of interest, and a large
sampling of America's parklands. Each photo feature is coupled with a brief explanation.
For further detailed information, links to other related sites are provided, but in no means should they be considered an endorsement.
North Fork of the Payette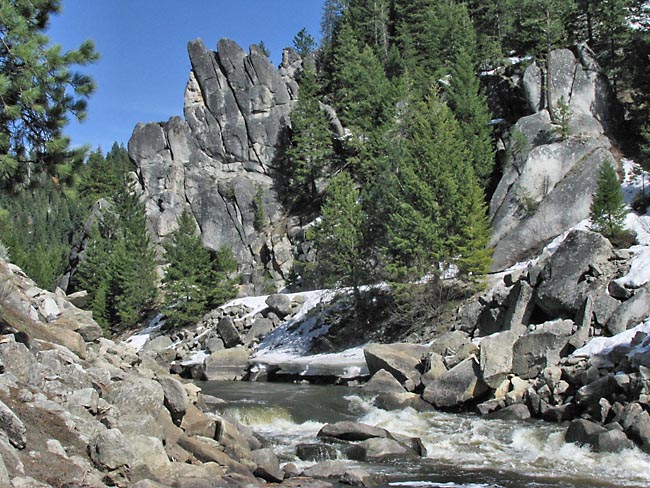 Considered as a warning or challenge, experts name the North Fork of the Payette River in west-central Idaho one of the most grueling whitewater runs in North America. From the town of Smiths Ferry to Banks, the Payette drops 1700 feet in 16 miles. Paralleling Route 55, this Class V run, with 20 named rapids, tests all that paddle it.
Idaho is well known for its scenic beauty and sightseers find that this section of the Payette River Scenic Byway lives up to those expectations. With its headwaters in the Sawtooth National Recreation Area and flowing through Payette Lake, the river is dammed just north of Smiths Ferry creating Cascade Lake. Southward, the river begins to pick up speed, entering three segments of whitewater. At Banks, the North Fork is joined by the Middle and South Forks, making a dramatic curve at Horseshoe Bend where it heads west into Black Canyon. The main river eventually joins the Snake River at the town of Payette, dropping nearly 8000 feet along its course.
The Payette was named for the French Canadian fur trapper, Francois Payette, who traded in the area during the early 19th century. It wasn't long before the influx of settlers lead to numerous clashes with the local Indian tribes. The Nez Perce War of 1877 was one of many battles, coups, and bloody massacres that continued in the Idaho territory until the end of the century.
Copyright ©2011 Benjamin Prepelka
All Rights Reserved