Scenic USA - Washington
Scenic USA offers a collection of select photographs from a wide variety of historic sites, points of interest, and a large
sampling of America's parklands. Each photo feature is coupled with a brief explanation.
For further detailed information, links to other related sites are provided, but in no means should they be considered an endorsement.
Waterville Barn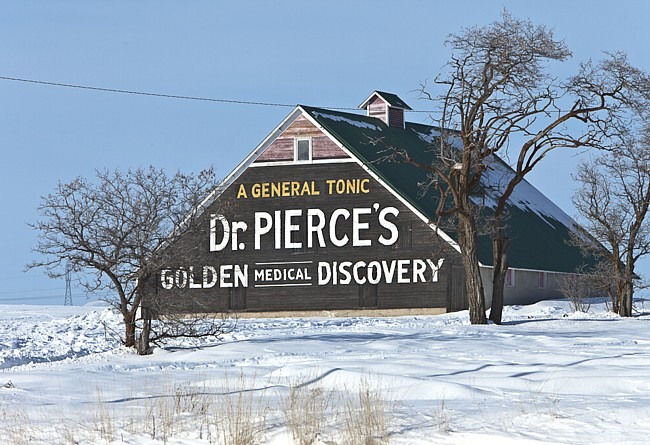 Professing to be a graduate of the Philadelphia University of Medicine and Surgery, Dr. Ray Vaughn Pierce went on to become one of the wealthiest doctors in America. After a brief four year practice in Pennsylvania, Pierce moved to Buffalo, New York, where he began to produce a licorice flavored tonic that carried the name Dr. Pierce's Golden Medical Discovery. His very sucessful marketing scheme used barn billboards, calendars, notebook ads and user testimonials. Between 1867 and 1880, his elixir brought in a half million dollars a year.
Pierce went on to market several other snake oil remedies (some containing alcohol and opium), and constructed a six story manufacturing plant in Buffalo. Pierce also established one of the best sanitariums in the country, the Invalid's Hotel and Surgical Institute. Pierce died at age 76 at his summer home on St. Vincent Island in Florida, leaving his son, Dr. Valentine Mott Pierce, to carry on this lucrative business.
Demonstrating the broad advertising campaign that Pierce was so famous for, his barn billboards are still seen throughout the country. This Waterville Farm, located atop the Waterville Plateau in Washington, still carries the Dr. Pierce ad campaign that ran for over ninety years. Claiming to be the highest incorporated town in Washington State, Waterville lies among a great expanse of wheat fields in Douglas County. From an elevation of nearly 2000 feet, Waterville residents are able to take pleasure in spectacular views of the Cascade Mountains to the west.
Copyright ©2011 Benjamin Prepelka
All Rights Reserved