Scenic USA - Louisiana
Scenic USA offers a collection of select photographs from a wide variety of historic sites, points of interest, and a large
sampling of America's parklands. Each photo feature is coupled with a brief explanation.
For further detailed information, links to other related sites are provided, but in no means should they be considered an endorsement.
North Claiborne Avenue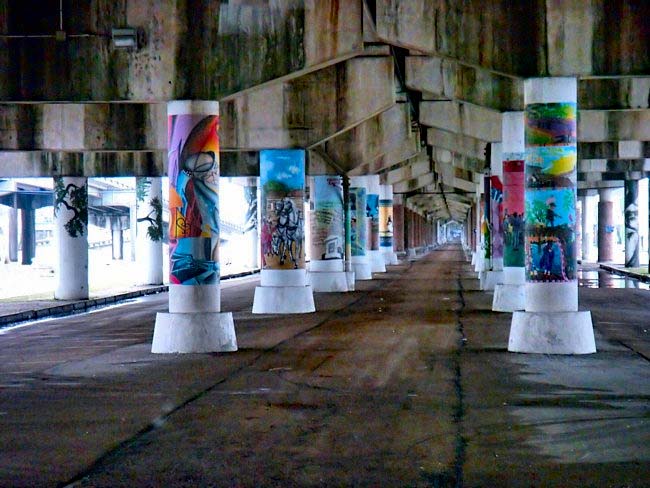 Once a thriving community in the heart of New Orleans, Tremé residents were proud of their section of the city. The centerline of North Claiborne Avenue was adorned with large, graceful oaks. Old timers recall a friendly atmosphere, with a variety of shops, cafes, restaurants and plenty of Louisiana jazz. As with most urban centers, signs of age and decline began to set in after World War II. The final blow began with a proposal of Interstate 10, destined to roll over Tremé, right into the French Quarter. The Claiborne Avenue citizens lacked the political might as those in the French Quarter, and soon the overhead expressway left the neighborhood in its dark shadows. Oak trees were removed, nearly 500 homes razed, and soon after completion businesses began closing up for good.
Now, the interstate highway has passed its life expectancy. After Katrina, damage to the freeway has city planners rethinking an overhead replacement. Now, the only oak trees are the ones painted on the expressway support columns. Colorful artwork does its best to brighten the concrete jungle, while Tremé Under the Bridge attempts to unite the North Claiborne Avenue residents. This new program hopes to restart economic growth, convey the area's history and culture, and restore the future of its young citizens. Many older homes in the area have been refurbished, but those blocks closest to the expressway continue to decline. Unfortunately, plans to build a ground level highway will never be able to return this neighborhood to its former glory. Still in all, the residents do enjoy an occasional good time under the expressway; the center of the Black Mardi Gras, plus a community fair and market.
Copyright ©2011 Benjamin Prepelka
All Rights Reserved