Scenic USA - California
Scenic USA offers a collection of select photographs from a wide variety of historic sites, points of interest, and a large
sampling of America's parklands. Each photo feature is coupled with a brief explanation.
For further detailed information, links to other related sites are provided, but in no means should they be considered an endorsement.
California Railroad Museum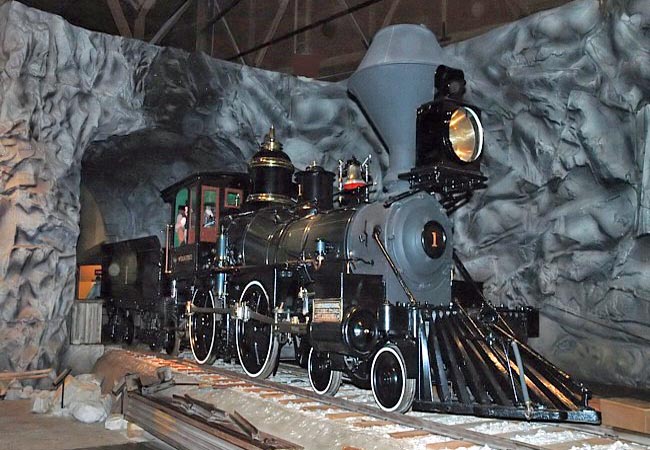 Photo by Gary O'Toole
Inset photos by Scott Dommin
Old Town Sacramento, sometimes called the birthplace of California, experienced a huge growth spurt with the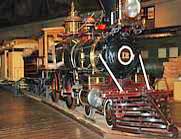 discovery of gold at the nearby Sutter's Mill. A century later, Sacramento had completely lost its luster, crying out for a bold redevelopment plan. The city's master plan painstakingly reconstructed gold rush era buildings, and added museums, shops and restaurants. Now, Old Town Sacramento has been designated as a National Landmark and a state historic park.
Today, nearly 5 million Sacramento visitors walk the cobblestone streets and wooden boardwalks every year, taking in river cruises on the Sacramento River, or touring the town in a horse and buggy.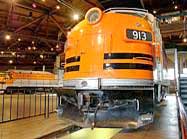 The California State Railroad Museum, one of the finest in the country, attracts rail fans and kids of all ages. The museum pays tribute to days of the Iron Horse, featuring nearly two dozen vintage locomotives and rail cars. Museum railroad engines and cars, dating back to 1862, represent a wide time period of railroad history. A full scale diorama features the wood burning Gov. Stanford Locomotive #1, taking visitors back to the beginnings of the western railroads. A steam powered excursion train features a 40 minute, 6 mile roundtrip along the Sacramento River.
Copyright ©2011 Benjamin Prepelka
All Rights Reserved