Scenic USA - North Dakota
Each day Scenic USA presents a new and interesting photo feature from somewhere in the United States. Chosen from a wide variety
of historic sites, city scenes, backcountry byways, points of interest and America's best parklands, this site offers the viewer hundreds
of unique vacation destinations and photographic subjects. Each feature is coupled with a brief explanation. For further detailed
information, links to other sites are provided, but are never to be considered an endorsement.

Other nearby
Points of Interest
At no extra cost to you, using this link helps support Scenic USA when you shop at Amazon
Little Missouri River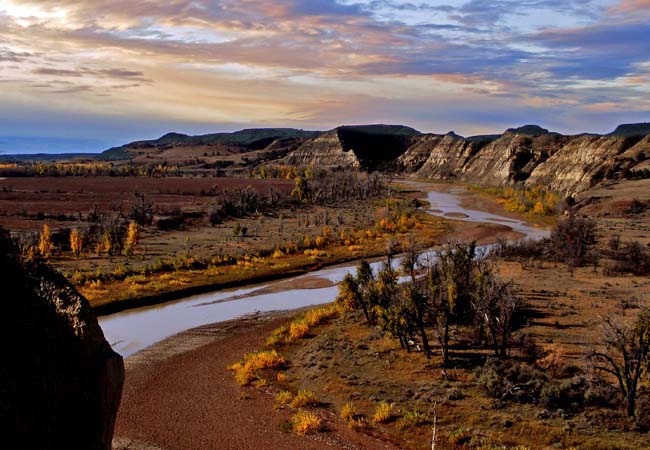 No match for its big sister the Missouri (one of the longest rivers in North America), the Little Missouri River begins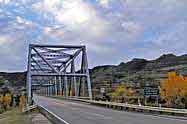 in northeastern Wyoming and flows 274 miles before it joins Lake Sakakawea near Killdeer. After wandering through parts of Montana and South Dakota, the Little Missouri enters North Dakota in the southwest, winding through the Little Missouri Grasslands and both units of the Theodore Roosevelt National Park.
As North Dakota's only scenic river, the Little Mo is better known as paddler's river, offering the best experience in the spring. As soon as winter snows begin to melt, the swollen river begins to see more and more wildlife activity. From a canoeist's perspective, the river is surrounded by dramatic buttes and long ridges of highly eroded plateaus, following along richly colored sandbars and miles of sweeping grasslands.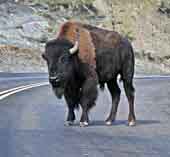 Area mule deer, big horn sheep, eagles and prairie falcon are joined by the national park's buffalo and elk. An occasional wildlife fence crosses the river, one obstacle that canoeists must portage around.
Here along U.S. Route 85, the Badlands Panorama offers a great viewpoint of the Little Mo from where the first French explorers called the area Mauvais Terres a traverse (bad lands to cross). Enjoyed today from a perch on a modern highway, sightseers may be able to spot the intricate patterns in the Little Mo's cliff walls. Made up of multiple layers of sandstone, silt, clay and shale, scattered veins of coal and pink scoria add even more definition to the colored layers. Today's visitors look beyond the Badlands name and enjoy this multi-colored world of strange beauty.

Area Map
Copyright © 2012 Benjamin Prepelka
All Rights Reserved