Scenic USA - Utah

Mount Carmel Highway
---
---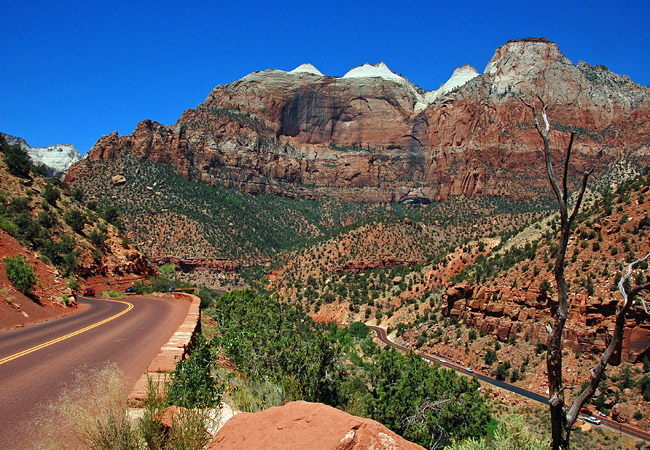 One of America's most famous national parks was first introduced through paintings and the words of Frederick S. Dellenbaugh.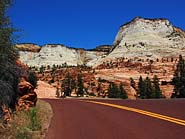 So remote and inaccessible, Zion Canyon wasn't a household word until the turn of the 20th century. Through his description and a headline, a great temple of eternity, the majestic Zion Canyon was soon recognized as Utah's first national park.
When visitors enter Zion Canyon from the east, majestic sights along Mount Carmel Highway prepare park guests for what lies ahead.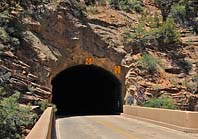 This remarkable highway was built as a way to connect visitors to the nearby Grand Canyon and Bryce national parks. Connecting Utah and Arizona's Grand Circle of national parks, Mount Carmel Highway was designated as Route 9.
Built between 1927 and 1930, construction costs approached two million dollars, a hefty price tag during the Depression Era.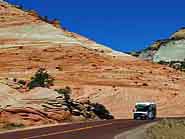 One of the main components of the highway was the 5163 foot Zion Tunnel. Adding nearly one quarter of the cost of construction, Zion Tunnel follows the cliffs of Pine Creek Canyon. A most thoughtful design, a series of portals broadcast light into the tunnel naturally, provide for ventilation and proved to be a quicker way to dispose of rock material during construction. At the time, Zion Tunnel was one of the world's longest tunnels and hasn't changed much over the last 83 years. What has changed is the size of vehicles using the tunnel every day. Now larger RVs and buses require an escort through the winding mile long structure.

Area Map
---
| | |
| --- | --- |
| Additional Points of Interest | |
---
Copyright © 2013-15 Benjamin Prepelka
All Rights Reserved