Scenic USA - Utah
Scenic USA offers a collection of select photographs from a wide variety of attractions, points of interest, historic sites, state and
national parks found throughout the United States. Each photo feature is coupled with a brief explanation.
For further detailed information, links to other related sites are provided.
Zion Canyon Overlook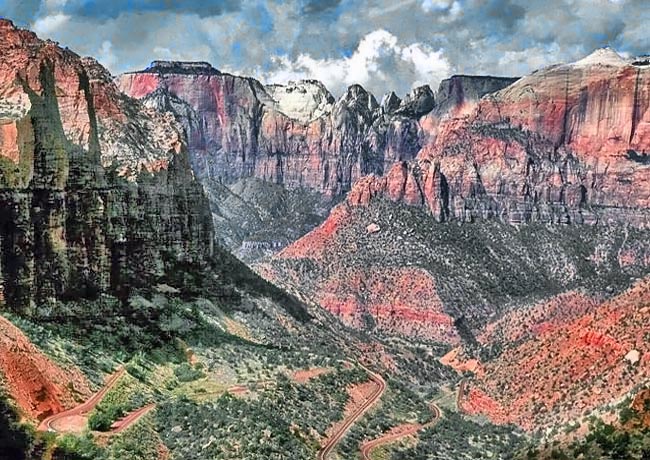 Nineteenth century Mormon settlers were overwhelmed with the sight of western Utah's massive canyons and splendid red rock beauty. They called the area Zion, the natural temples of God.
    Today, the trip there is much easier, thanks to a 1920s engineering effort applied to an almost impossible task. Pictured here is Zion National Park's serpentine Mount Carmel entrance route as seen from the Canyon Overlook. Here the deep red colored road competes for visitor's attention with the surrounding high plateau scenery. Two narrow tunnels were built to access Lower Zion Canyon. These tight tunnels, completed in 1930, will test the driving skills of large recreational vehicle owners. A fee is levied on all vehicles requiring an escort and those reducing two way traffic.
    Just before the eastern side of the Mount Carmel Tunnel lies the Canyon Overlook trailhead. This easy half mile hike leads to this remarkable canyon view.
Copyright ©2006 Benjamin Prepelka
All Rights Reserved