Scenic USA - Arkansas
Scenic USA offers a collection of select photographs from a wide variety of attractions, points of interest, historic sites, state and
national parks found throughout the United States. Each photo feature is coupled with a brief explanation.
For further detailed information, links to other related sites are provided.
Lost Valley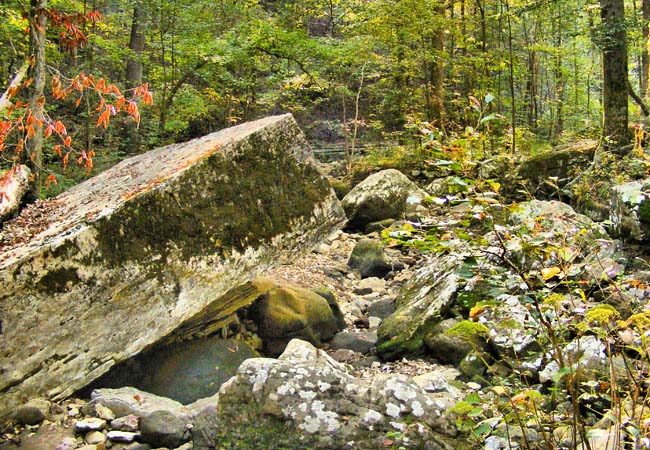 Lost Valley, one of the smaller recreation sites along the Buffalo National River, still offers a list of small adventures. The Buffalo River area is known for its elk watching, canoeing and kayaking, And the Lost Valley / Clark Creek area also offers a little spelunking. Park signs give a cooks tour of what to expect in the hollow and suggest that the valley is neither lost, nor is it an actually valley. Clark Creek, like most tributaries to the Buffalo River, is fairly seasonal. Clark Creek flows for only three miles through Lost Valley, but in this short run the waters have created an array of surprising geological shapes. The creek occasionally disappears through holes in the limestone, and at times, depending on the amount of rainfall, it vanishes altogether.
A two mile trail follows along the hollow and Clark Creek, showing visitors the effects caused by the awesome power of a small creek. First, hikers on the two mile route will encounter the Jigsaw Blocks, massive stone blocks dislodged from surrounding bluffs. Second, a natural bridge was carved through 50 feet of limestone. Cob Cave is next, a name given to a bluff shelter when prehistoric corn cob remnants were discovered. Eden Falls, a series of four falls that drop 170 feet down a bluff. Unfortunate for some, these falls are also seasonal. Near the trails end, a steep climb leads to Eden Falls Cave were water forces sliced through the deep rock. A 35 foot falls, 200 feet inside the cave, is still at work creating another natural bridge.
This early morning scene captures sunup and the narrow entrance road into the campgrounds. The small 16 site campground is on a first come, first serve basis. The Lost Valley trailhead is located at the end of the campground parking lot.
Copyright ©2008 Benjamin Prepelka
All Rights Reserved