Scenic USA - Colorado

Mile High Capitol Building
---
---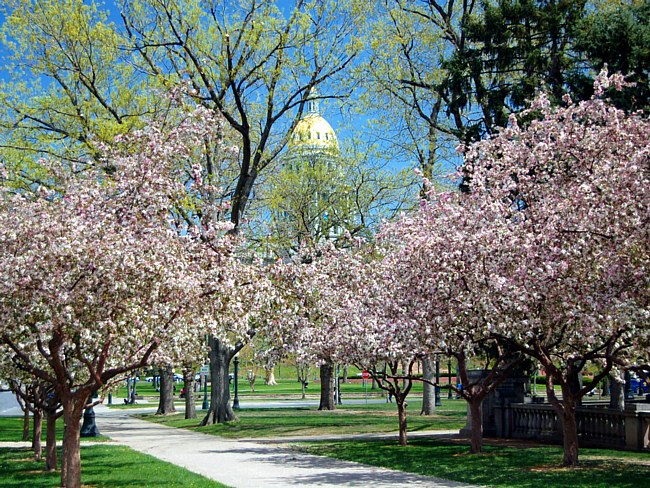 Photos by Ron McEwan
Capitol facade inset - Wikimedia Commons-Hustvedt
This Denver Capital City scene, bearing a strong resemblance to America's national capitol, is complemented with a burst of springtime cherry trees.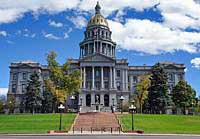 With similarities to one of the most famous Pennsylvania Avenue landmarks when the cherry blossoms have peaked, the Colorado capitol building was inspired and designed with the United States capitol in mind.
The building's Neoclassical exterior was constructed of Colorado white granite, all topped off with one of the most prominent features in Denver's skyline. The brilliant capitol dome is plated with 24-karat gold leaf, commemorating Colorado's Gold Rush days. Designed by Elijah E. Myers and constructed in the 1890s, the building houses the Colorado legislature and the offices of the Colorado Governor and Lt. Governor.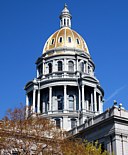 While the building's exterior is composed of granite, the interior uses a rare rose marble from a quarry near Beulah, and a white Yule Marble from the famous quarries near Marble, Colorado. Its stained glass windows depict people and events related to the history of Colorado. The halls are decorated with portraits of every president of the United States. The Mile High City's Capitol Hill district is located at 200 East Colfax Avenue. At the building's west entrance, the 13th step is identified as being the impressive mile high elevation mark. Tours are conducted Monday through Friday from 10:00 am to 3:00 pm. with slightly extended hours in the summer months. After a 5 year hiatus, the capitol dome was reopened for public tours.

Area Map
---
| | |
| --- | --- |
| Nearby Points of Interest | |
---
Copyright © 2008-16 Benjamin Prepelka
All Rights Reserved