Scenic USA - Michigan

Mission Point Lighthouse
---
---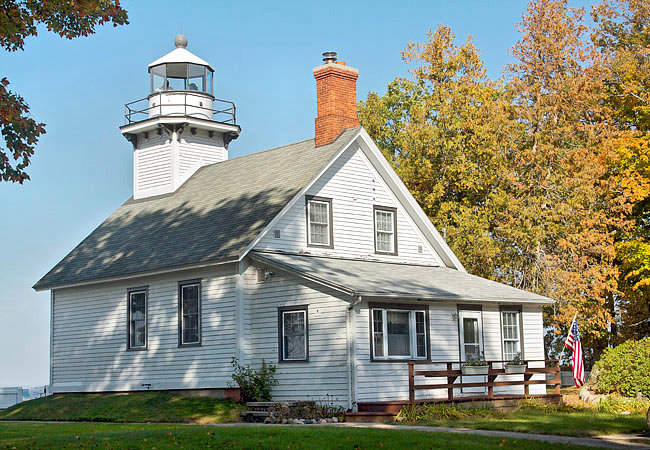 The Grand Traverse Bay Area and its central hub, Traverse City, have entertained vacationers since the steamship era. Here, the Leelanau Peninsula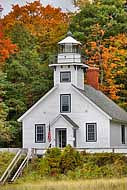 juts out into Lake Michigan, creating the smooth waters of Grand Traverse Bay. Sometimes called the pinky finger, the peninsula is noted for its moderate climate, perfect for vacations, vineyards and fruit orchards, especially its signature crop of cherries. One of the largest producers of tart cherries in the United States, Traverse City hosts the week-long National Cherry Festival, drawing in a half-million visitors.
Old Mission Peninsula, splitting the southern section of Grand Traverse Bay, is another smaller bay area peninsula. Projecting north from Transverse City, the 17 mile long Peninsula County Route M-37 has been designated a Scenic Heritage Route. The site of the only operating post office in the Grand Traverse Bay region during the mid 1800s, Old Mission, known then as Grand Traverse, becaqme the site of the Mission Point Lighthouse.
Built in 1870, Mission Point Lighthouse marked the north tip of the peninsula near the center of Traverse Bay. The one-and-a-half-story wood frame light station was built with an integrated square tower that housed a fifth-order Fresnel lens.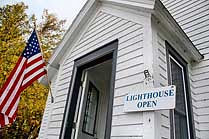 Decommissioned in 1933, the Mission Point Lighthouse now offers visitors a peek into what life was like around the turn of the century for Great Lakes lighthouse keepers. Lighthouse tours also include a climb to the top of the tower and exceptional views of Grand Traverse Bay.
For true lighthouse fans, Peninsula Township offers a program to stay at the lighthouse and be a keeper of the light. While staying at the actual lighthouse, guest light-keepers will meet with visitors, perform routine grounds maintenance and assist with some maintenance projects. Anyone interested in becoming a Mission Point Lighthouse guest light-keeper are asked to read all the requirements listed in the keepers handbook before applying. Sounds like a great place to fulfill a dream!

Area Map
---
Nearby Points of Interest
---
Copyright © 2014-15 Benjamin Prepelka
All Rights Reserved