Scenic USA - Delaware
Scenic USA offers a collection of select photographs from a wide variety of attractions, points of interest, historic sites, state and
national parks found throughout the United States. Each photo feature is coupled with a brief explanation.
For further detailed information, links to other related sites are provided.
Abbott's Mill Historic Site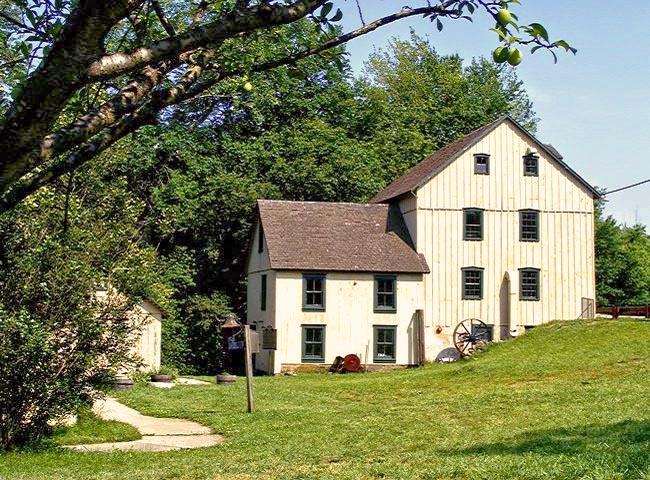 The origin of Abbott's Mill can be traced back to 1795 when Nathan Willey purchased the land in southern Delaware, nearby today's city of Milford. During the spring in 1802 Willey and several neighbors petition the Court of General Sessions for the road be extended to their new grist mill. Following Willey's death in 1812, the mill changed ownership numerous times the next century until it was purchased by miller Ainsworth Abbott in 1919. The present mill, placed on the National Register of Historic Places in 1972, is believed to have been reconstructed on the foundation of the original building. The mill was operated by miller Abbott until the State of Delaware acquired of the property in 1963.
Abbott's Mill Historic Site is now part of the Delaware Nature Society's Abbott's Mill Nature Center. In conjunction with the historic grist mill, the center offers programs and activities to encourage the appreciation of our natural environment and cultural heritage. Nature programs are geared to adults and families, school classes and public groups. The nature center includes the 27 acre Lindale Tract, the six acre Cedar Bog Preserve and 21 acre Isaacs Tract, where easy walking trails lead through fields, pine woods, by the mill stream and its retention ponds. At the Lindale Preserve, students can investigate a replica Indian lodge, furnished with tools and clothing. Hands-on lessons feature hunting methods, Indian games and the way Native Americans used plants in their everyday life.
Copyright ©: 2008 Benjamin Prepelka
All Rights Reserved