Scenic USA - Pennsylvania
Scenic USA offers a collection of select photographs from a wide variety of attractions, points of interest, historic sites, state parks and
national parks found throughout the United States. Each photo feature is coupled with a brief explanation.
For further detailed information, links to other related sites are provided.
Tunkhannock Viaduct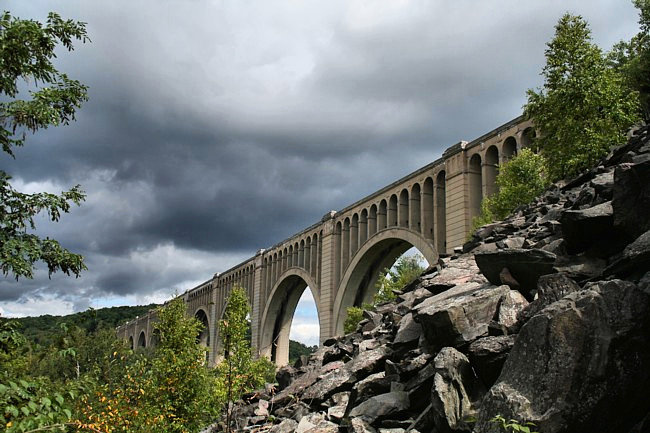 Nearing the century mark, the Tunkhannock Viaduct still creates an impressive sight in northeastern Pennsylvania. Taking three years to build, the massive reinforced concrete bridge stretches out almost a half mile, used a whopping 169,000 cubic yards of concrete, and more than 1000 tons of steel. Its graceful central arches, spanning 180 feet, are supported by piers that were sunk 138 feet below ground level. Sitting on Tunkhannock Creek bedrock, its supporting piers took up almost half the concrete used on the project.
This amazing structure, rising 240 feet above the creek bed, was built by the Delaware, Lackawanna, and Western Railroad. A key link in the railway, the project was designed to straighten out existing curves and steep grades of the previous tracks where trains often struggled through these rugged Pennsylvania hills. Considered a marvel in engineering at the start of the 20th century, the bridge shaved more than an hour from a freight train's schedule.
This majestic bridge is still in use today by the Canadian Pacific and Norfolk Southern Railroad. Also called the Nicholson Bridge, the viaduct looms over the town of Nicholson. Difficult to escape its presence, Nicholson celebrates Bridge Day every September.
Copyright ©2010 Benjamin Prepelka
All Rights Reserved