Scenic USA - Texas
Scenic USA offers a collection of select photographs from a wide variety of attractions, points of interest, historic sites, state and
national parks found throughout the United States. Each photo feature is coupled with a brief explanation.
For further detailed information, links to other related sites are provided.
Shri Swaminarayan Mandir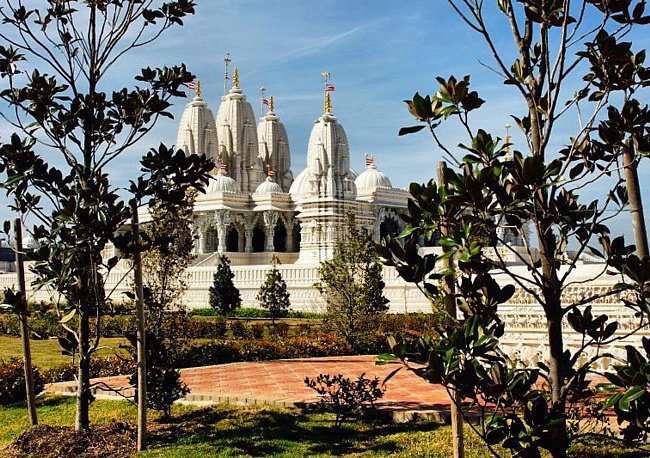 Located in Houston, this Hindu mandir (temple) was opened in 2004. Appearing as an ancient marvel from the East, the 25,000 square foot BAPS Shri Swaminarayan Mandir followed ancient architectural plans, while meeting present day building codes. Without any steel support, the building used over 3,500 tons of Turkish limestone and Italian marble (interior). Seen as a massive jigsaw puzzle, over 30,000 hand carved pieces arrived from India, ready for assembly.
Occupying 22 acres, the mandir is open for visitation, but strict rules are in place at this sacred site. Guests are asked to remove their footwear. Short skirts, sleeveless tops and shorts are forbidden, along with photography, smoking and cell phones.
Bhagwan Swaminarayan, born in north India, began his studies of the Hindu scripture at age 11. Swaminarayan went on to revolutionize his society with sweeping reforms, banning outdated practices and warning against harmful addictions. BAPS Swaminarayan teachings strive to inspire a better way of life through humanitarian values, while steering its members from destructive addictions.
Copyright ©2006-2009 Benjamin Prepelka
All Rights Reserved