Scenic USA - North Carolina
Scenic USA offers a collection of select photographs from a wide variety of attractions, points of interest, historic sites, state and
national parks found throughout the United States. Each photo feature is coupled with a brief explanation.
For further detailed information, links to other related sites are provided.
Yates Mill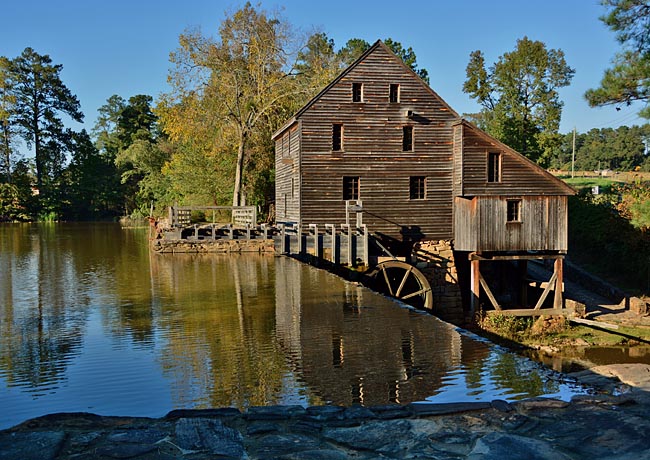 Lying abandon for nearly 50 years, reopening the Yates Mill was indeed a great cause for celebration. Along with an 18 year restoration project, more than 570 acres of park land were added around the mill.
The old Yates Mill, a photographers' delight, is caught in this wonderful reflective scene. Now gracing this North Carolina site, the Yates Mill is an outstanding example of an 18th century grist mill . With many, many long hours of painstaking volunteer work, completed restoration of both the building and equipment have made the mill fully functional. Mill tours occasionally show off the huge mill stone in action, grinding corn into meal.
Once owned by the North Carolina State University, the Yates Mill Associates began restoration in 1988. Just in time to celebrate its 250 birthday, the mill was opened to the public in 2006. A partnership of both private and public entities has resulted in the Historical Yates Mill County Park. Along with the mill, a 20 acre lake, hiking trails and visitor center accommodate plenty of recreation and education experiences.
Recent floodwaters temporarily closed the mill attraction while repairs were made. The mill yard, mill and trail have since been repaired and the site reopened in July, 2009.
Copyright ©2006-2009 Benjamin Prepelka
All Rights Reserved