Scenic USA - Kentucky
Scenic USA offers a collection of select photographs from a wide variety of attractions, points of interest, historic sites, state parks and
national parks found throughout the United States. Each photo feature is coupled with a brief explanation.
For further detailed information, links to other related sites are provided.
Big South Fork Scenic Railway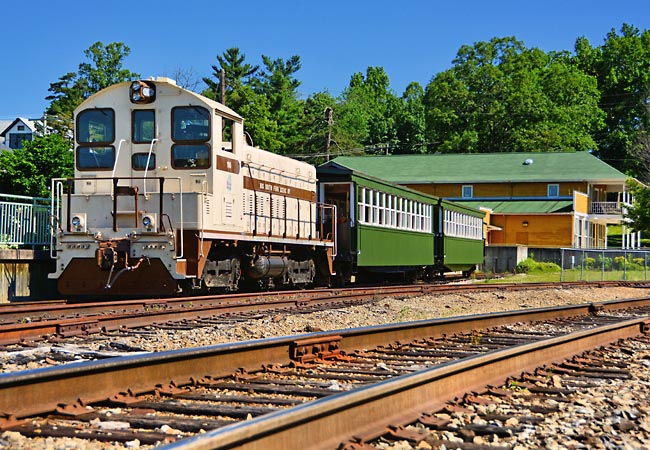 Over a century ago, Justus S. Stearns purchased 30,000 acres of land in Kentucky's Big South Fork River Valley. With the discovery of coal, the Stearns Coal and Lumber Company soon controlled 200 square miles of land, set up the first electrically powered sawmill, and established the Kentucky and Tennessee Railway.
Today,
the McCreary County Heritage Foundation leads the task to preserve of the last company town, complete with an operating railroad. The business district, still dressed in company colors of sage and white, once catered to a town of 2000 that worked in 18 coal and lumber camps. The Stearns Company headquarters still sits on a hillside, overlooking Main Street, and now serves as the McCreary County Museum.
The Kentucky and Tennessee Railroad covered 25 miles of Big South Fork River Valley and operated a dozen steam-powered locomotives.
Operated by the National Parks Service today, the Big South Fork Scenic Railway offers a 16 mile excursion over the Route of the Painted Rocks. Powering through spectacular canyonland vistas, and thick Kentucky forests, the Big South Fork River Valley makes a stop at the Blue Heron Coal Mining Camp. Here visitors can see the ghost structures, cross the river on a tipple bridge, and walk into the mine entrance. Special packages allow for a ride in the cab of the AMD #106 locomotive (powered by a 12 cylinder, 1200 hp diesel), the train's caboose, or enjoy a coal miner's lunch. Special runs include the Haunted Hollow Express, December's Santa Express, and night excursions call the Painted Rocks and Twinkle Train.
Copyright ©2010 Benjamin Prepelka
All Rights Reserved