Scenic USA - Kentucky
Scenic USA offers a collection of select photographs from a wide variety of attractions, points of interest, historic sites, state and
national parks found throughout the United States. Each photo feature is coupled with a brief explanation.
For further detailed information, links to other related sites are provided.
Cumberland Falls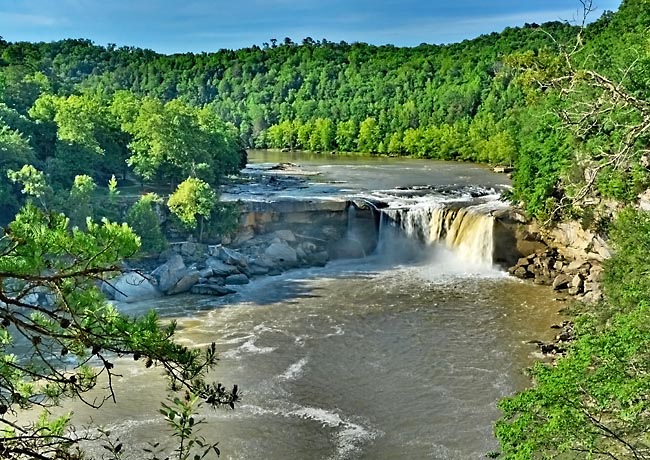 Cumberland Falls Resort Park features one of the grandest water features in the state. Kentucky's Cumberland Gorge has drawn visitors to the area since the early 1800s, impressed with a thunderous 68 foot high Cumberland Falls. Sometimes called the Little Niagara, or the Niagara of the South, the falls area thrills sightseers from all around the globe.
Park history began with the falls property being purchased as a donation to the state by a native Kentucky family, the DuPonts. Access roads soon followed, as the state established the park in 1931. Soon afterward, the Civilian Conservation Corps brought 136 young men to the falls. They constructed a 26 room DuPont Lodge, along with fifteen cabins, campsites, picnic areas, and trails. The lodge structure was short lived, as it was destroyed by fire in 1940. The DuPont Lodge was rebuilt the following year and its solid hemlock beams and knotty pine paneling are still evident today. The 51 rooms have been refurbished again in 2006, making for a wonderful stay at the park.
This falls view is taken from Trail #9, where a path is cut along the cliff's edge, high above the gorge below. The trail not only offers great views of the Cumberland Falls, but leads to a small tributary and a picturesque Eagle Falls. The 1.5 mile loop is somewhat challenging, as a large tumble of boulders surround the base of Eagle Falls. Hiking is just one of the many activities enjoyed at this resort park.
Copyright ©2008 Benjamin Prepelka
All Rights Reserved