Scenic USA - California
Scenic USA offers a collection of select photographs from a wide variety of attractions, points of interest, historic sites, state and
national parks found throughout the United States. Each photo feature is coupled with a brief explanation.
For further detailed information, links to other related sites are provided.
Granite and Glacier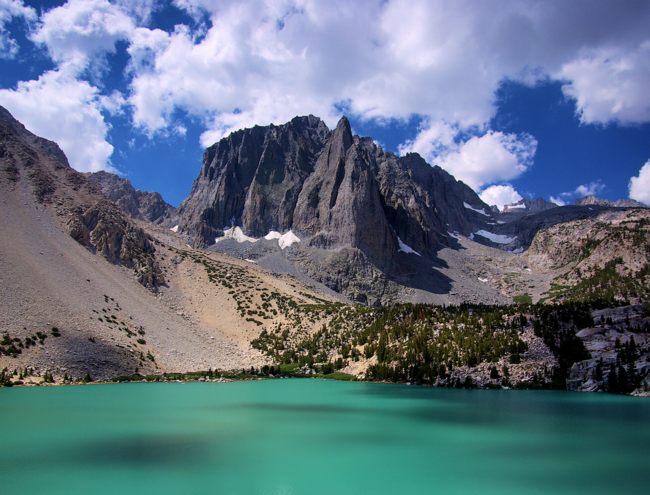 An aerial view of California is marked by two distinctive mountain ranges. The parallel Coastal Range and the Sierra Nevada mountain belts, separated by the Sacramento Valley and San Joaquin Valley, are products of a slow subduction of the earth's massive tectonic plates. The Pacific Basin, slowly moving easterly, is being forced under the North America plate, uplifting California's mountain ranges. These granitic mountains, made up of igneous rock, were formed from crystallized magma below the earth's crust.
This remarkable Sierra Nevada view takes in an imposing Temple Crag, one of the alpine climber's favorites. Sierra Nevada's Second Lake, lying at the base of one massive granite chunk, casts an unusual turquoise hue, a lake colored by glacial-milk fed streams. The area is accessed by way of the north fork of the Big Pine Trail and leads to one of the southernmost glaciers in the United States. This High Sierra country satisfies any visitors longings for picturesque mountain views and the dramatic scenery that once inspired John Muir and Ansel Adams.
Copyright ©2007 Benjamin Prepelka
All Rights Reserved