Scenic USA - Tennessee

Falls Mill
---
---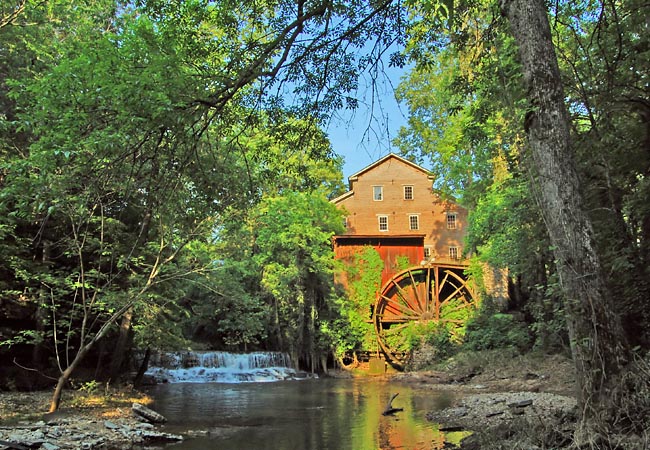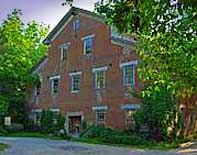 Located in the cozy valley of Factory Creek and just minutes from Tennessee's I-24 and the 21st century, a trip to Falls Mill will take you back to country living 100 years ago. Recognized as a mill seat as early as 1808, over the years Factory Creek provided power for a sawmill, wood-working shop and cotton gin. Today, Falls Mill still produces stone-ground flour, cornmeal and grits the old-fashioned way.
   The present day mill was the second mill built on this site. Graced with the sight of a beautiful waterfall, the three story, brick-faced mill is supported by a post-and-beam structure. Initially built in 1873 as cotton and wool factory, young women and children worked 12 hours a day, carding wool and cotton, and spinning thread and yarn.
   The mill property changed hands numerous times over the years. Now owned by John and Jane Lovett, the mill proudly houses hand looms, spinning wheels and a rare collection of 19th century power looms. This non-profit organization, specializing in education, welcomes tourists, shoppers and group tours.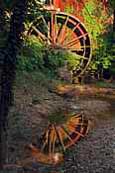 Listed on the National Register of Historic Places, mill visitors are invited to the country store, treated to mill and museum tours and may watch the grist mill in action. Each morning the head gate is opened to the millrace, providing power to the century old 32 foot overshot steel water wheel. During the day, owners may be cleaning corn, milling grits, making a variety of repairs or getting ready for a miller training workshop.
   Here in the historic district of Belvidere, overnight guests may reserve an 1895 log cabin. The well kept two story bed and breakfast, located adjacent to the mill, provides all the comforts of 21st century living. As one would guess, breakfast includes Falls Mill products, as well as traditional ham and eggs, cereals, fresh fruit and coffee.

     Area Map
---
| | |
| --- | --- |
| Additional Points of Interest | Scenic USA Prints from Fine Art America |
---
Copyright © 2011-16 Benjamin Prepelka
All Rights Reserved