Scenic USA - Illinois
Scenic USA offers a collection of select photographs from a wide variety of historic sites, points of interest, and a large
sampling of America's parklands. Each photo feature is coupled with a brief explanation.
For further detailed information, links to other related sites are provided, but in no means should they be considered an endorsement.
Starved Rock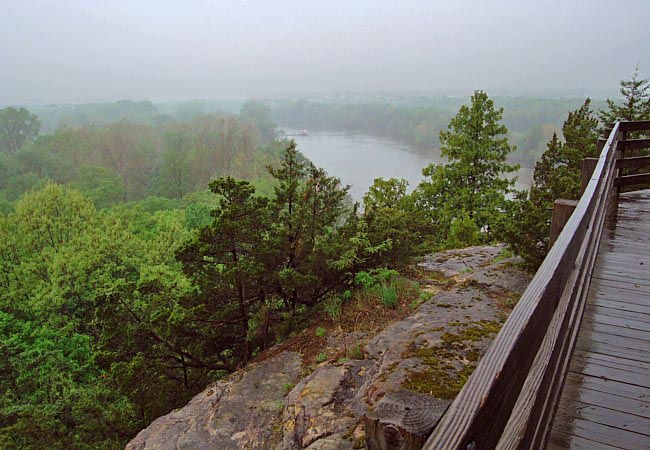 Known for its spectacular bluffs, an array of canyons and waterfalls, and its unique name, Starved Rock State Park's popularity is echoed in its top ranking among the Seven Wonders of Illinois.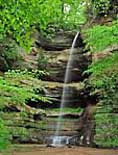 Here, alongside the Illinois River, a thick forest of oak, cedar, and pine are interrupted by a string of 18 canyons and waterfalls. Cut through the sandstone bluff line, these sheer walled canyons are a big part of the park's majestic scenery. Exploring this string of canyons and waterfalls can be spaced out over several days, indicating why the closest canyons to the visitor center receive the most attention. Thirteen miles of trails are woven throughout the park, leading through the green forest floor, in and around its breathtaking side canyons, and a return route along the riverside.
A short climb from the visitor center leads up to the top of Starved Rock. Here atop the 125 foot sandstone perch, a band of Illiniwek Indians once sought refuge. In retribution for killing Chief Pontiac in the 1760s, the Ottawa and Potawatomi tribes surrounded the bluff and waited until all the members of the Illiniwek died of starvation. Today, this viewpoint offers state park guests a marvelous view of the Illinois River and the forested river valley. The park's 1930s lodge has been refurbished and offers overnight guests a modern stay within a peaceful atmosphere of yesteryear.
Copyright ©2011 Benjamin Prepelka
All Rights Reserved