Scenic USA - Oregon

Diamond Loop Backcountry Byway
---
---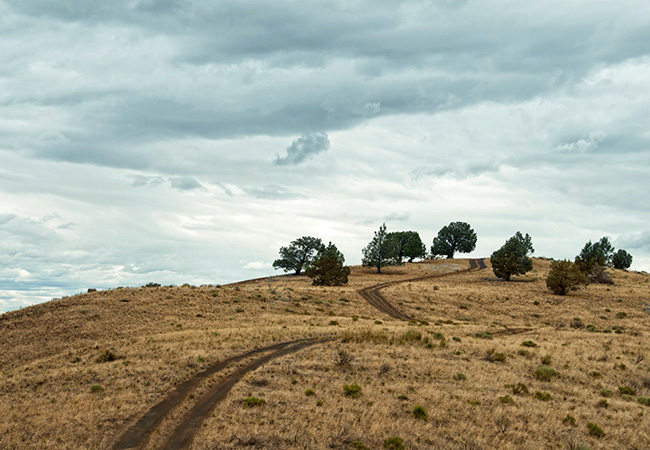 Circling through Oregon's high desert, Diamond Loop Tour Backcountry Byway travelers will find a varied mix of byway features, including the Malheur National Wildlife Refuge, the old ranching community of Diamond, a side road to the Kiger Mustang Viewing Area,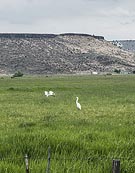 Peter French's Round Barn and Diamond Craters Outstanding Natural Area.
Heading east from Oregon Route 205, the byway follows South Diamond Lane, bordering the Malheur NWR. Depending on the season, byway visitors may be treated to thousands of migrating waterfowl making their journey along the Pacific Flyway. For those keen eyed observers, eagles and hawks may be seen overhead, while pronghorn and deer roam the hills of the wildlife refuge.
Named for Mace McCoy's Diamond Brand, little remains of the once bustling town of Diamond. Aside from the Diamond Hotel, the town's entrepreneurs, which furnished area sheepherders and ranchers supplies, have disappeared. A short side trip, over an eleven mile gravel road, leads up to the Kiger Mustang Viewing Area. The wild horses here are the closest relatives to the first Spanish horses to arrive on the North American continent.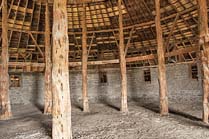 More of Harney County's ranching heritage lies ahead at the Round Barn Visitor Center. Area history surrounds the life of Peter French, the Cattle King. Funded by Dr. Hugh J. Glenn, French moved into the southeastern corner of Oregon in 1872 with a small cattle herd. By the mid 1880s French looked after 100,000 acres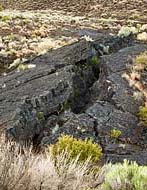 and 45,000 head of cattle. The Round Barn, built of juniper posts and lumber brought in from the north, housed French's horses. Today, the barn looks much like it did during Pete French's heyday.
Back toward the west, tucked between the Donner und Blitzen and Riddle Creek river valleys, byway travelers on Lava Bed Road with find a kiosk for the Diamond Craters lava fields. Here, six arching domes are part of a self guided tour that highlights the Lava Pit Crater, Graben Dome and countless lava tubes, cinder cones, and maars.
Crossing the high desert for roughly 70 miles between Route 205 and Route 78, the byway loop includes the town of Diamond, North and South Diamond Lane, Lava Bed Road and Happy Valley Road.

Byway Map
Diamond Craters Tour Brochure
---
| | |
| --- | --- |
| Additional Points of Interest | |
---
Copyright © 2013-16 Benjamin Prepelka
All Rights Reserved