Scenic USA - Oregon

Alvord Desert
---
---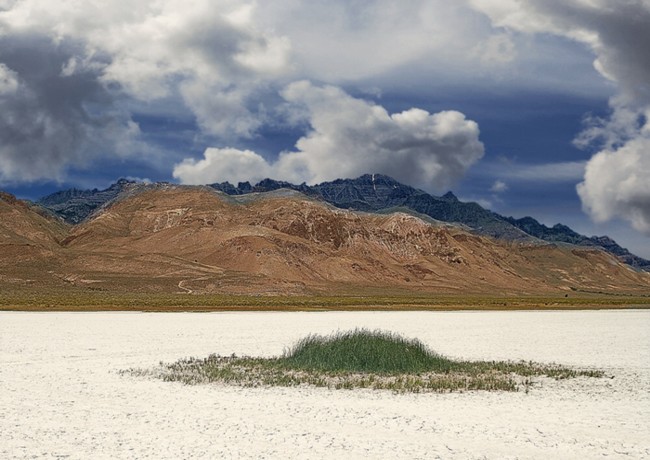 To simply explain a fault-block mountain is to describe what is happening along a split in the earth's crust. An intense pressure, deep within the earth, pushes the crust upward along the split (fault line) on the surface, creating a fault mountain or or sometimes a complete mountain range.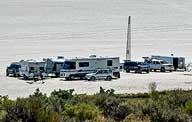 California's towering Sierra Nevada Mountains are a great example of a fault-block mountain range.
   In eastern Oregon, Steens Mountain is another enormous fault block, rising over 4000 feet above the Alvord Desert. Steens is so large, (and how large is it? ... over 50 miles long) it was mistakenly thought to be a mountain range. Although four distinct notches were punched through the mountain wall by glaciation, these peak-like ridges are just part of a continuing line of one immense rain stopper.
   Here in the rain shadows of Steens Mountain, the Alvord Desert receives on average just seven inches of rain every year.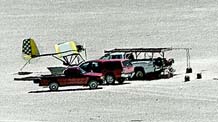 Named for General Benjamin Alvord, Oregon's Civil Way Army commander, the Alvord Desert covers nearly 75 square miles. A popular playground for land sailing and high-speed vehicles, deaf stuntwoman Kitty OíNeilís run here claims a women's world land speed record at 512 MPH. On most weekends, when winds and temperature allow, you'll find an array of RVs and land-yachts. Just like a sailboat with wheels, this extreme sport is growing in popularity. The land sailing record reached 126 MPH (203KPH) at Ivandah Dry Lake in 2009. And here on the Alvord, super-smooth playa is the perfect spot to try out this age-old mode of transportation.

    Area Map
---
| | |
| --- | --- |
| Additional Points of Interest | |
---
Copyright © 2013-16 Benjamin Prepelka
All Rights Reserved