Scenic USA - Montana
Scenic USA offers a collection of select photographs from a wide variety of attractions, points of interest, historic sites, state and
national parks found throughout the United States. Each photo feature is coupled with a brief explanation.
For further detailed information, links to other related sites are provided.
Hi-Line Region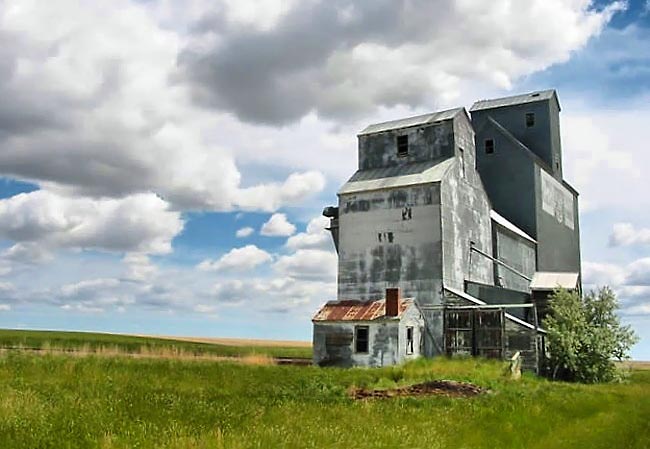 One of James J. Hill's biggest dreams envisioned a railway extending across the Great Plains from western North Dakota to the Pacific Ocean. The dream began with construction of his Great Northern Railroad in 1887. New tracks quickly moved across Montana and followed a long stretch of the Milk River. The Great Northern Railroad was completed in 1893, followed by a flood of new ranchers and farmers. Quick to capitalize on Europe's worn-torn countryside, American farmers supplied the Allies war effort aided by favorable weather and new rail service. A string of towns sprouted up along the railway and are still seen today dotting the map on U.S. Route 2. Over production, years of drought and the Great Depression forced thousands of Montana's farmers either out of business or into consolidation.
Here in Montana's Hi-Line Region the landscape extends forever; a land of rolling hills and a signature Big Sky. This abandon grain elevator in Hill County, near Inverness, is a solemn reminder of the ups and downs in these remote farming regions. Trends today see grain elevator complexes growing larger and larger, forcing small town co-ops out of business. Although city slickers leaving behind their 9 to 5 job for a hobby farm create heart warming stories and a spike in the number of farms, reality sees an increase in larger farm operations run by industrial conglomerates.
Copyright ©2006-2009 Benjamin Prepelka
All Rights Reserved