Scenic USA - Hawaii
Scenic USA offers a collection of select photographs from a wide variety of attractions, points of interest, historic sites, state and
national parks found throughout the United States. Each photo feature is coupled with a brief explanation.
For further detailed information, links to other related sites are provided.
Waipi'o Valley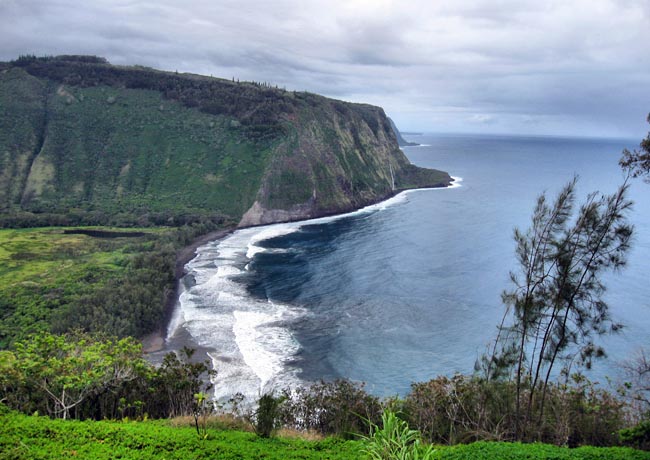 An old Hawaiian legend explains that a powerful warrior gouged out the Waipi'o Valley with his huge club. His rival was unimpressed and went on to kill the showman.
One of the Big Island's deepest and most beautiful valleys, Waipi'o is surrounded on three sides with steep cliffs, tiers of waterfalls, and accessed by only one steep road. The valley's open-ended on the coastline, where a mile wide black sand beach adds to the beauty of the area.
A great tsunami cleared out the valley in 1946, and remaining memories kept it uninhabited for 20 years. Slowly the area attracted a new group of people eager to leave main-stream living. Described as a colorful group, residents survive with no power, running water or television coverage. Police hesitate to get involved with valley affairs and leave most disputes to be settled by its residents.
Tourist reaching the valley by shuttle bus may find the tour operator and driver are the only friendly faces about. The one lane road into the valley is at least a 25 percent grade. Sightseers are cautioned not to drive this route, as itís best left to the experts. Here in the valley, Kaluahine and Waiulili falls are beautiful, but the small waterfalls are overshadowed by the most impressive Hi'ilawe Falls, dropping over 1,200 feet, the highest on the island. Scared off from driving into the valley? If you plan on walking into the valley, a handful of illegal road signs are posted to dissuade you.
Copyright ©2006-2009 Benjamin Prepelka
All Rights Reserved