Scenic USA - North Carolina

Bodie Island Lighthouse
---
---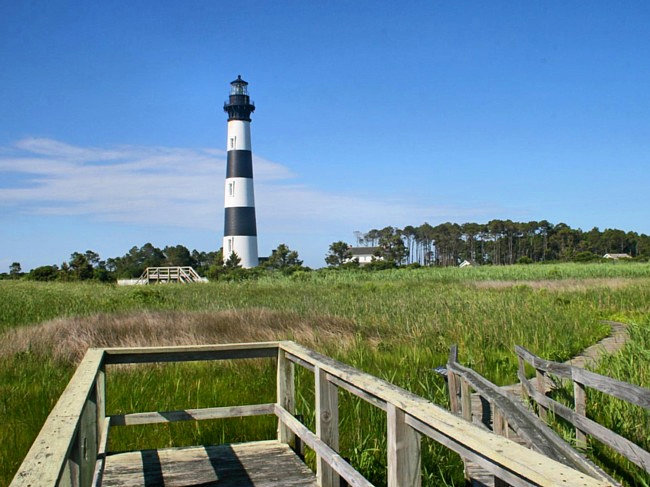 It's hard not to think of old adages and clichés when looking back over the Bodie Island Lighthouse historic record. Failing to establish a suitable foundation, the original lighthouse lasted only 11 years. One could say that the treasurer, responsible for doling out the initial lighthouse funds, was pennywise and pound foolish.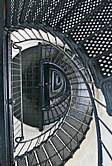 Named after the Body family, the Bodie Island Light is one of a string of lighthouses that mark the dangerous shoals along the Outer Banks coast. Rising 165 feet from the dunes below, today's lighthouse was the third built on this narrow barrier island. One of the most popular Outer Banks lighthouses, the black and white striped tower is as pretty as a picture.
It's no coincidence the Bodie Island Lighthouse bears a strong resemblance to the Hatteras Light at Buxton. Dexter Stetson finished up the Hatteras Light and moved up the coast in 1870 to build on the Oregon Inlet site at Bodie Island. This banded beauty was turned over to the National Park Service in 2000 and continues as a navigational aid. Today the park service, assuming full responsibility for the lighthouse, has its hands full.
In this 2007 view (above) the structure looked fine from a distance, but looks are deceiving as the lighthouse was in serious need of repair. Waiting on funds to be approved, the lighthouse was fenced off due to chunks of the tower falling below. In 2009 a major restoration project was kicked off to correct structural and safety problems.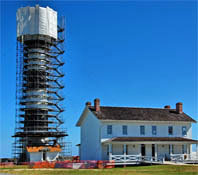 Top items on the list of repairs included 10 flights of spiral staircase supports and replacement of 21 cracked stair treads. Project funds also provided for repairs to the oil house, replacing flooring, roof material, and windows. Once contractors began on the main tower, bad news surfaced when support members for the lantern room were discovered with serious cracks. These structural deficiencies brought the project to a halt prematurely. While waiting on additional funds for tower repairs in 2010, restoration began on the 140 year old first-order Fresnel lens. The delicate glass prisms (344 in all) were removed for cleaning, along with the metal pedestal that supports the lens. The historic lens awaited heavy construction work to be completed before its reinstallation. By spring of 2012 Phase 2 of a major restoration began, eyeing a project completion date by the end of the year. Hampered by bad weather and more structual problems, the Outer Banks Lighthouse Society moved its homecoming for the Bodie Island Lighthouse keepers' direct descendants to the October, 2013.

Area Map
---
---
Copyright © 2009-15 Benjamin Prepelka
All Rights Reserved