Scenic USA - Pennsylvania
Scenic USA offers a collection of select photographs from a wide variety of attractions, points of interest, historic sites, state and
national parks found throughout the United States. Each photo feature is coupled with a brief explanation.
For further detailed information, links to other related sites are provided.
Liberty Bell Center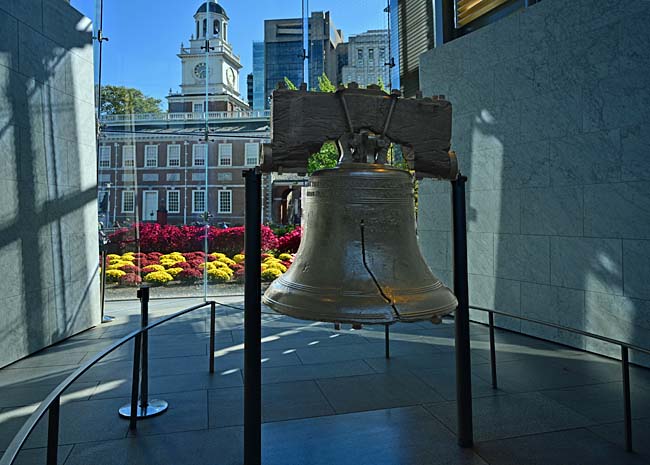 One of America's most famous symbols of individual freedom is Pennsylvania's Liberty Bell. Although it wasn't called the Liberty Bell right away, its inscription bares the biblical quote, proclaim Liberty throughout all the Land unto all the inhabitants thereof.
Pennsylvania's early government allowed colonists to take part in making their own laws and practice their chosen religion. In order to rally the towns people for public meetings and announcements, a state house bell was ordered. The bell, shipped from England, displayed signs of cracking on arrival. The bell was recast using metal from the original. The 2000 pound bell was used for almost 100 years before a crack appeared. The bell was repaired, but saw little usage afterward.
The name Liberty Bell did not surface until the 1830s when an abolitionist group used the bell as symbol for their cause. Trying desperately to heal the nation after the Civil War, the bell was circulated around the United States reminding citizens of their country's roots and refreshing the idea of a united America. The bell was returned to Philadelphia in 1915, now seen on display at the Liberty Bell Center. The bell is housed in glass and hangs from its original elm yoke.
The ideas and symbols of Independence Hall, the Liberty Bell and Independence Day (4th of July) are wonderfully captured at the Independence National Historic Park. Many of the first time guests experience a new meaning for independence and old freedoms in this historic part of Philadelphia.
Copyright © 2009 Benjamin Prepelka
All Rights Reserved